Editor's Picks
Summer Trends to Try
posted on June 4, 2013 | by Amanda Holstein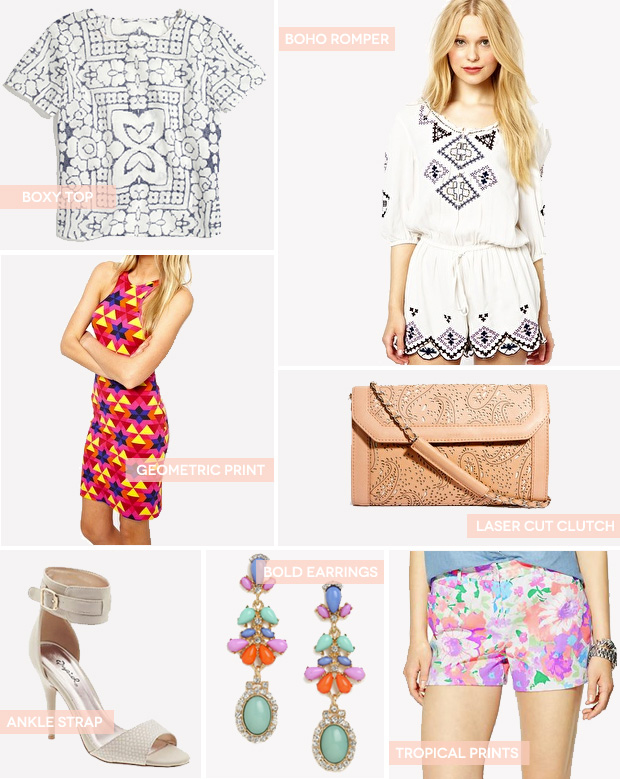 As the seasons change, that means it's time to fill your closet with new goodies. I have to say, this year may be one of my favorite years for summer trends. While flowy dresses and white blazers are of course coming back on the scene, there are some newer trends I can't wait to wear. Check out some of my favorites below:
Boxy Top:
You'd think such a structured piece may not be the most flattering, but it's actually the perfect shape to pair with tapered trousers, a sleek mini skirt, or even structured shorts. They also work perfectly with all of those statement necklaces you've collected over past few months!
Madewell Top – $78
Boho Romper:
The perfect lightweight piece for weekends and bbqs, a boho style romper is on the top of my list this summer. Just add a simple pair of neutral sandals and you're good to go.
ASOS Romper – $67.88
Geometric Print:
This trend has been coming onto the style scene in a big way. It's a fun nod to the '80s and brightens up any look.
ASOS Dress – $23.08
Laser Cut Clutch:
Swap out your suede purse from the colder months for a cute laser cut clutch. It's great for a night out or just to carry around on the weekends.
ASOS Clutch – $66.14
Ankle Strap:
From flats to wedges to pumps, the ankle strap is a sexy trend I can't wait to wear this summer. Plus, the added stability makes your highest of heels that much more comfortable.
Qupid Heels – $49
Bold Earrings:
While statement necklaces are still a must, bold and colorful earrings are a great way to mix up your accessory routine.
Bauble Bar Earrings – $26
Tropical Prints:
On dresses, shorts, or even blazers, tropical prints are a fun way to bring the essence of vacation into your everyday wardrobe. While floral prints are still adorable, tropical prints are a great way to mix things up.
Pim & Larkin Shorts – $49
What trends are you excited about for summer?