Travel
Our Epic Summer Road Trip through the Southwest
posted on July 27, 2017 | by Amanda Holstein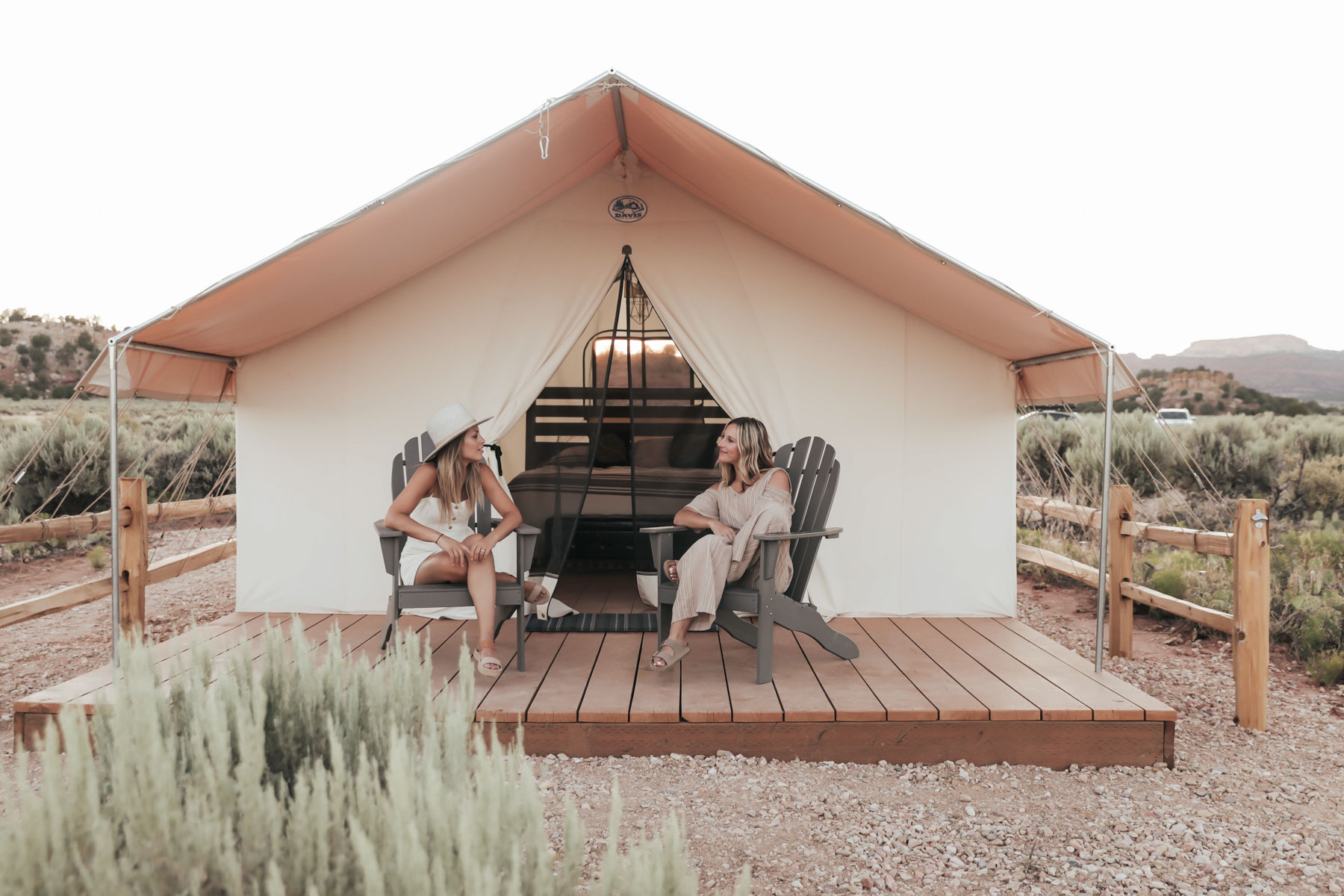 If you follow me on Instagram, you may have noticed a recent influx of photos featuring my summer road trip through the southwest. I'm so excited to finally get to share the entire experience with you! I've always had a soft spot for the southwest. I grew up going to Colorado and Utah every year, and have always felt this connection to Native American art & jewelry. So when Andrea, Alex and I decided to go for a full-on road trip through my favorite part of the U.S., I was beyond excited!
Now, planning a road trip can be tricky. We made it as easy as possible by planning as much ahead as we could. Of course, schedules change, but it really helped to have everything planned out. We created a google spreadsheet to figure out a few route options, how much time we wanted to spend in each location and to track how long the drives between locations would be. We based the trip around the sites we wanted to see the most, allowing room to adjust as we went. So…follow along on our journey below! And be sure to scroll all the way down to watch the video!
White Sands, NM
We started our road trip in New Mexico, knowing we had to see the White Sands, miles of beautiful white sand dunes in the middle of the rocky southwestern terrain. After meeting up in Albuquerque, we drove about 4 hours to get to the White Sands. We knew we wanted to get there for sunset and ended up arriving super early. So we explored for a bit, but I gotta say, it was absurdly hot. We kept running back to the car to get some air conditioning! I would recommend waiting and going at sunset. The view is amazing, the colors are insane, and it just feels magical at that time. Of course, we took advantage and snapped some photos in this fun Urban Outfitters floral top and maxi skirt :).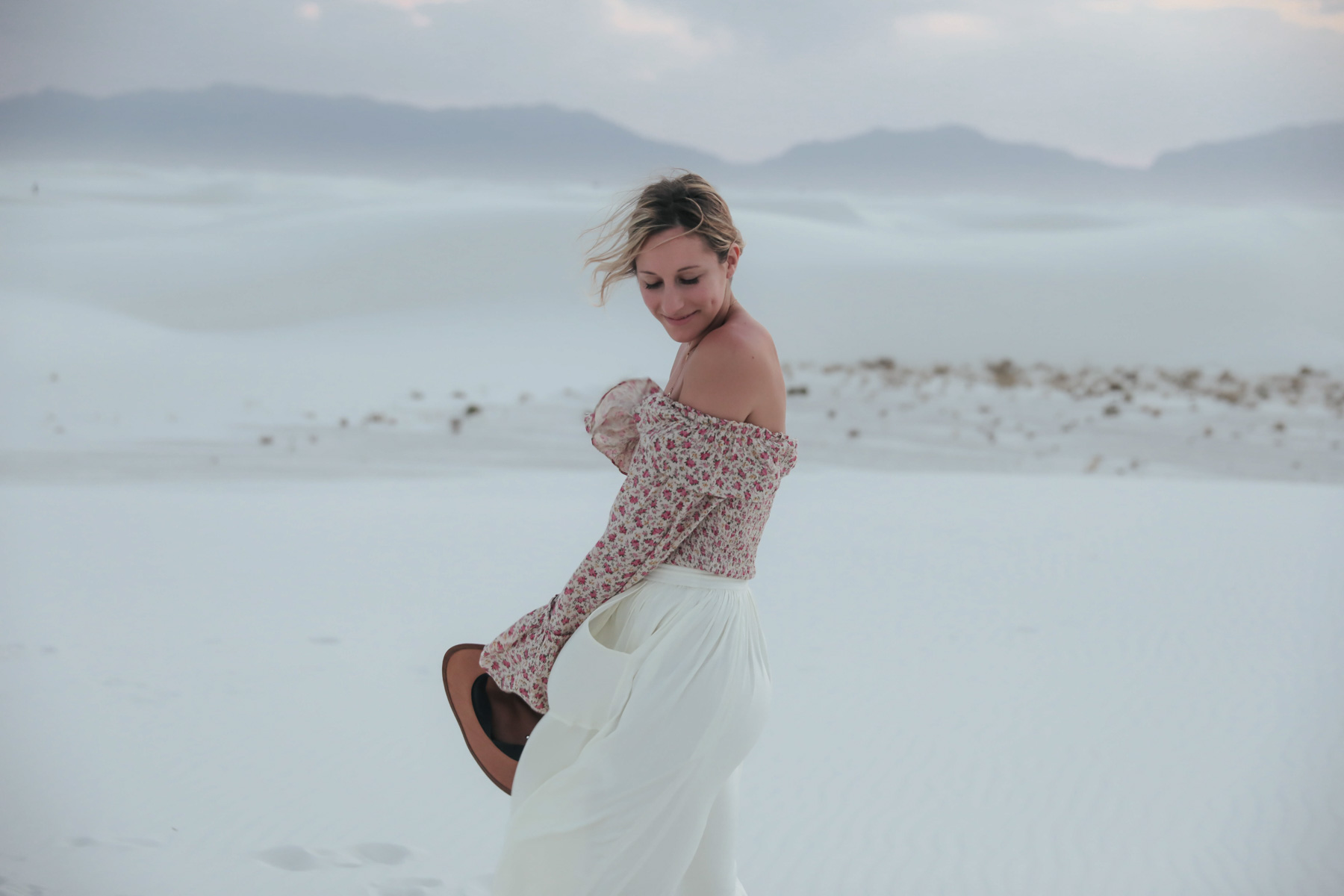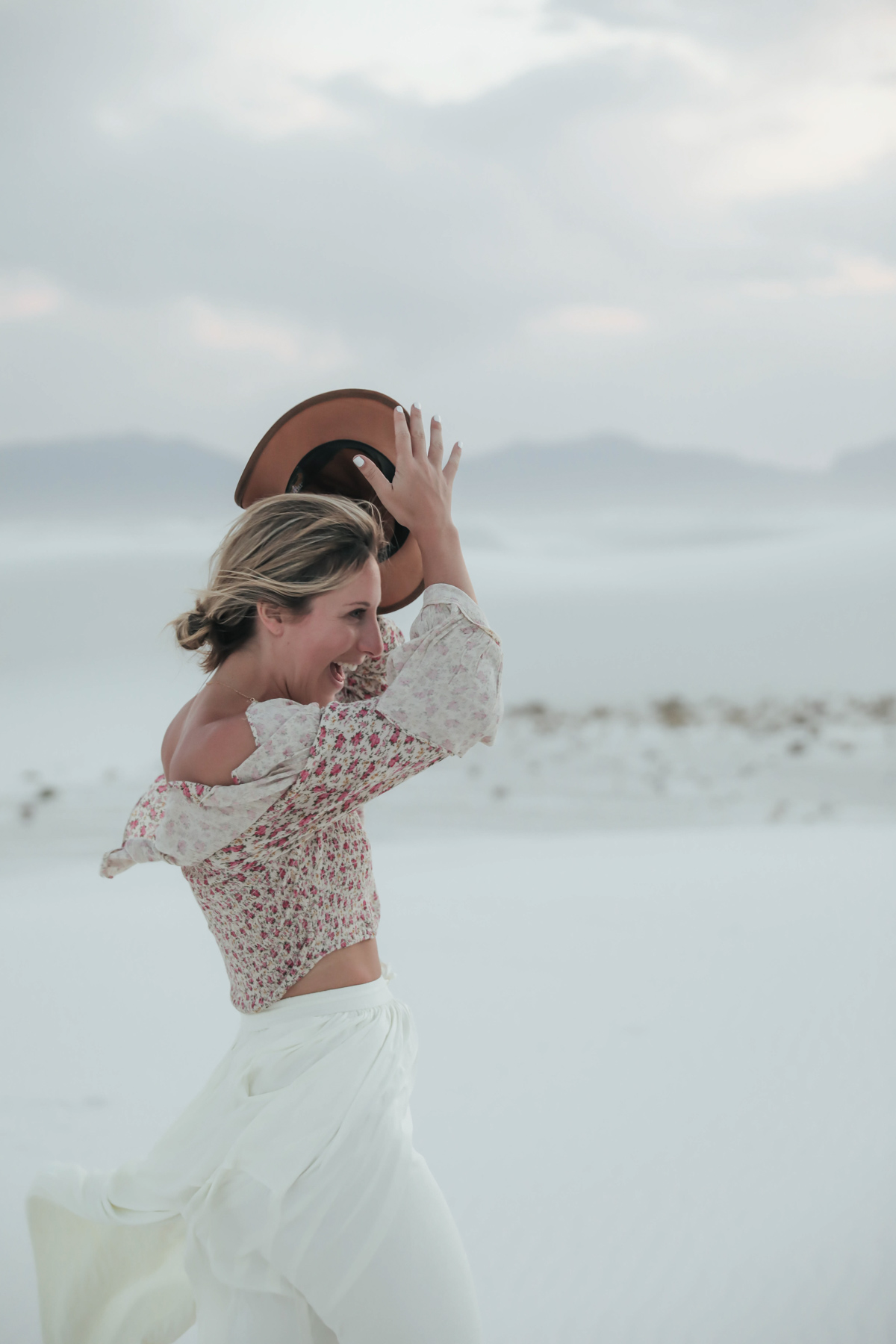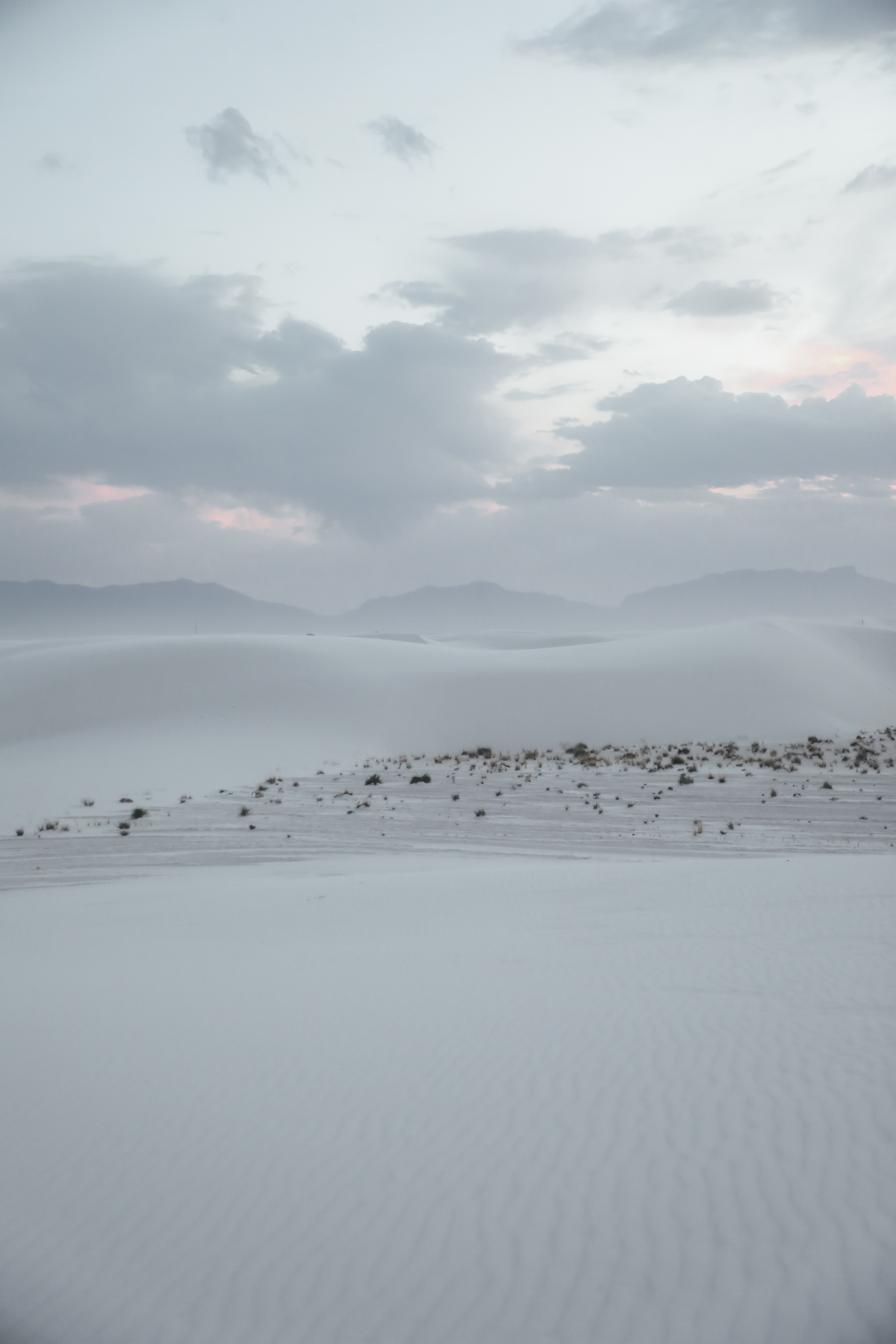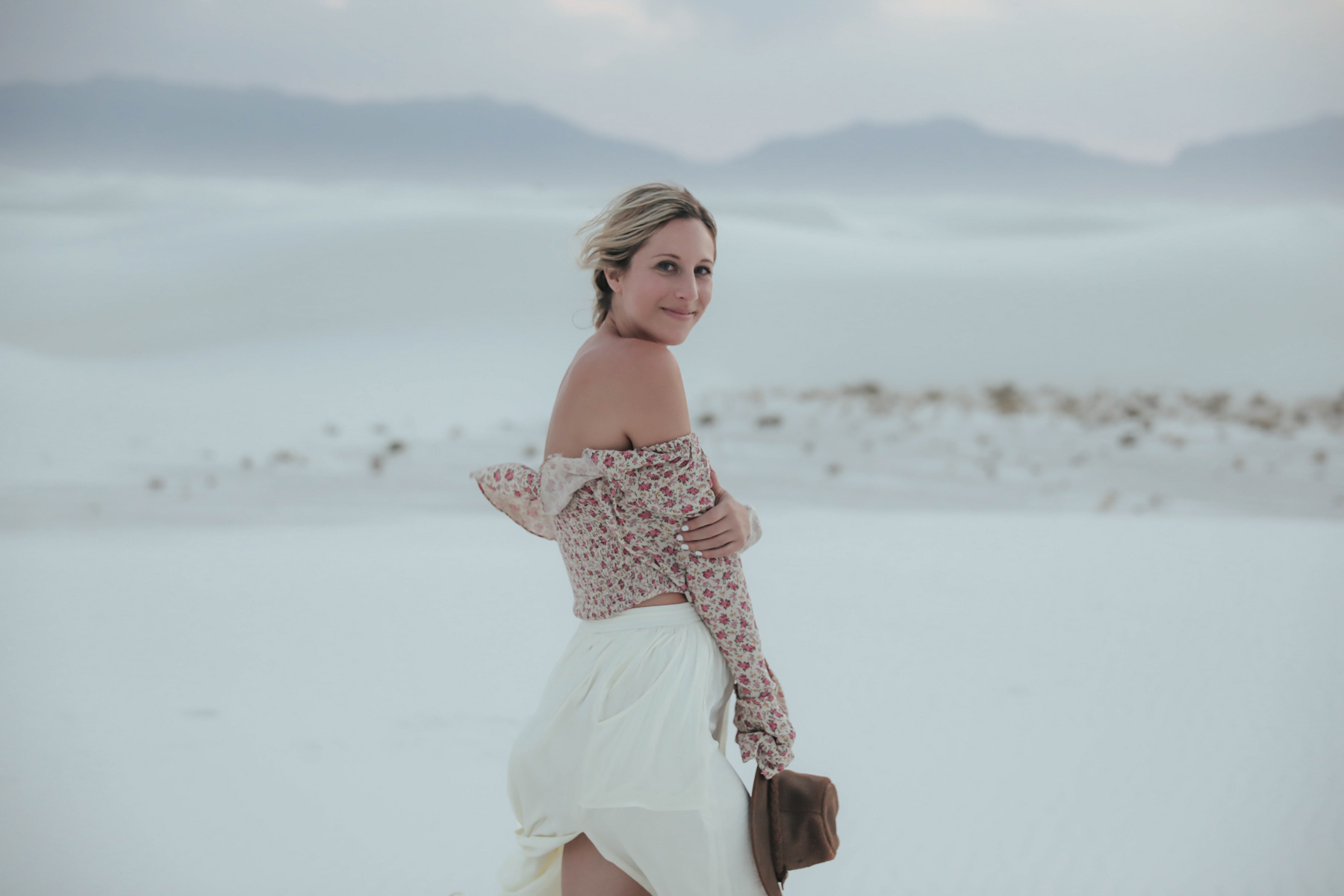 Sedona, AZ
After the White Sands, we had initially planned to drive the full 5 hours to Sedona, AZ. But that ended up being insane after a full day of driving and shooting. So instead, we drove for about an hour, booked a last minute hotel and took off early in the morning. Sedona was beautiful. That's really where all the red rocks start to come into view. We parked and enjoyed the view of Cathedral Rock, Bell Rock, and the Red Rock Reserve. It was super hot again so we stayed near the car and just walked around a little, though there are some great hikes. I wore this Urban Outfitters cut-out t-shirt dress and a baseball cap, which really helped with the heat.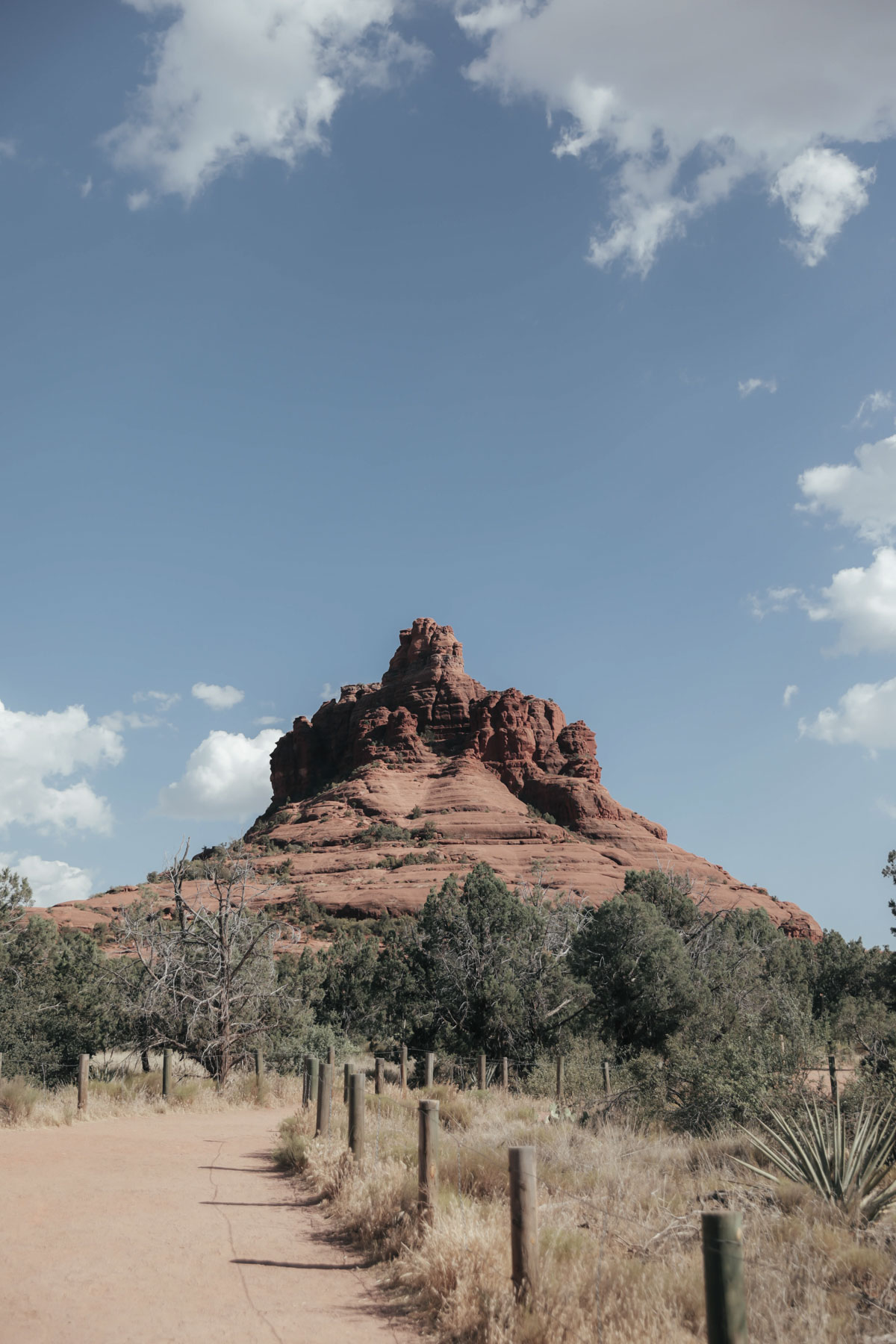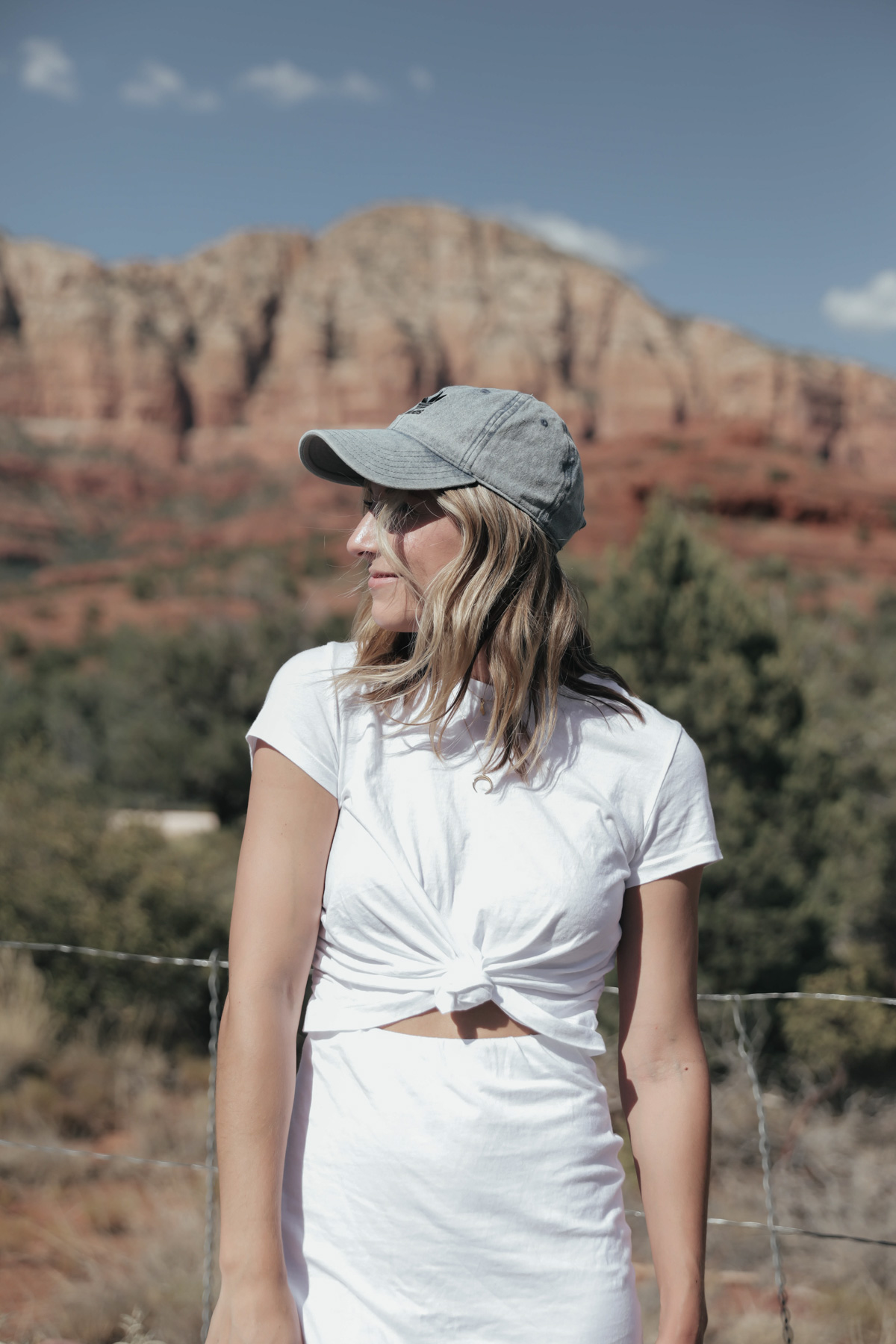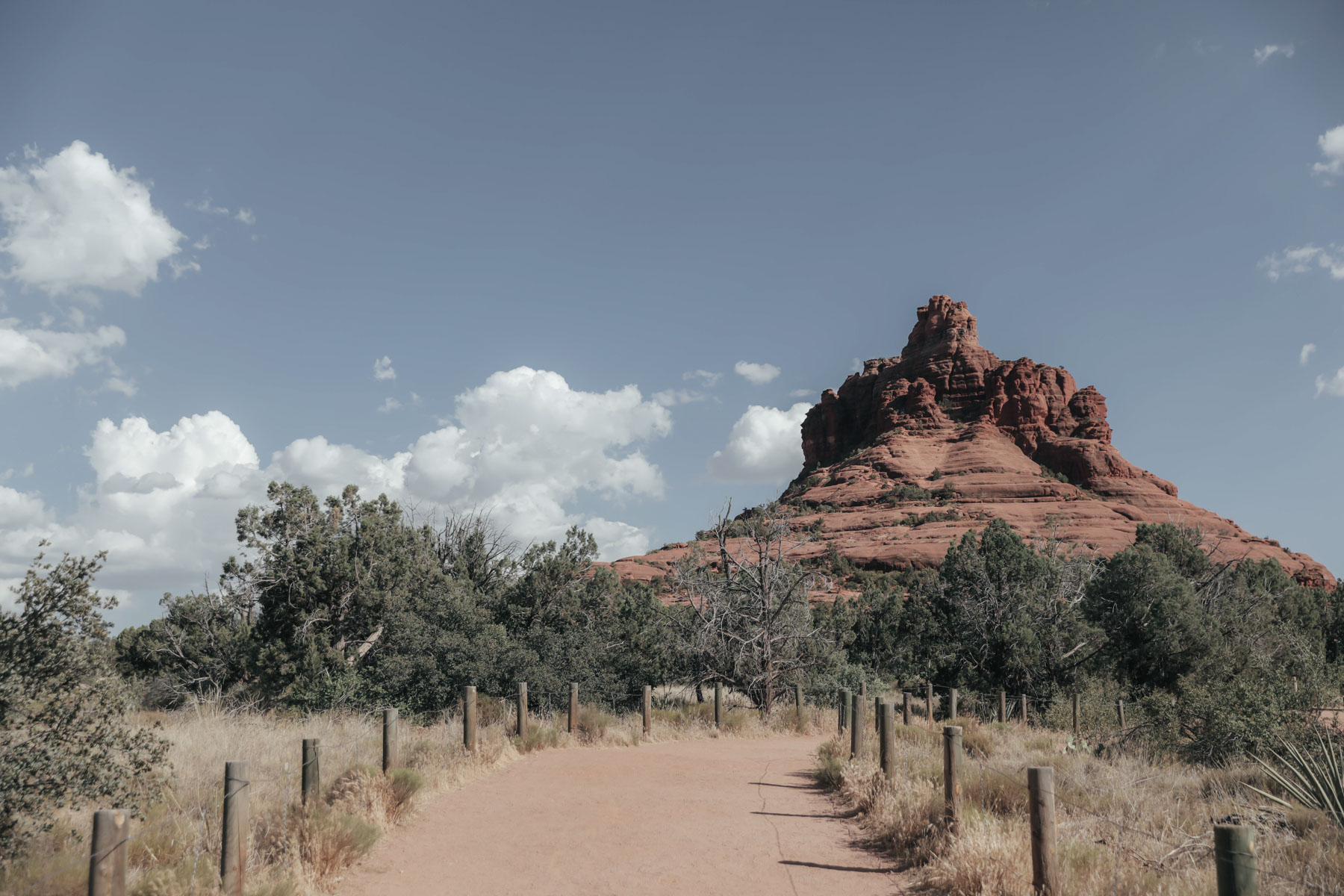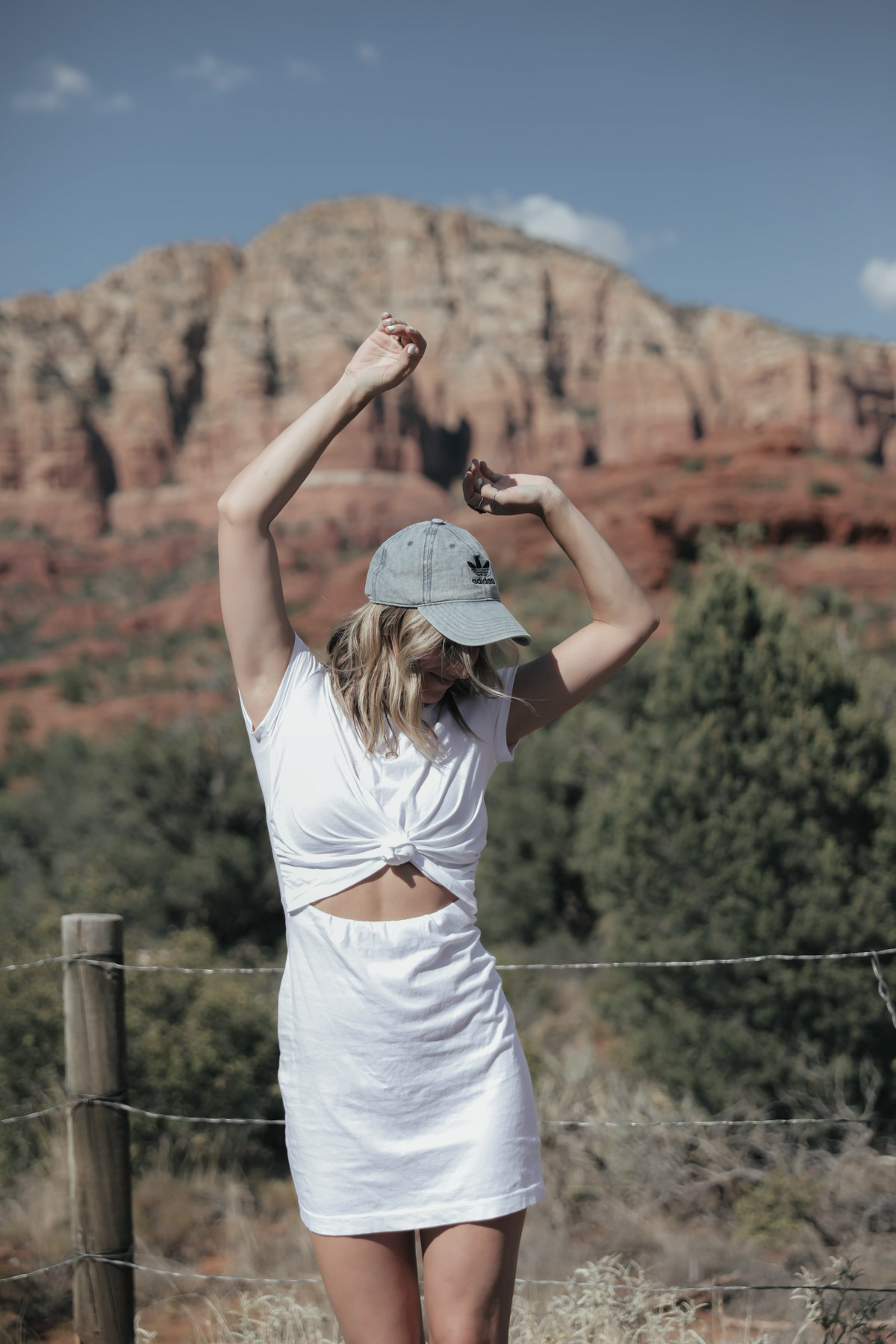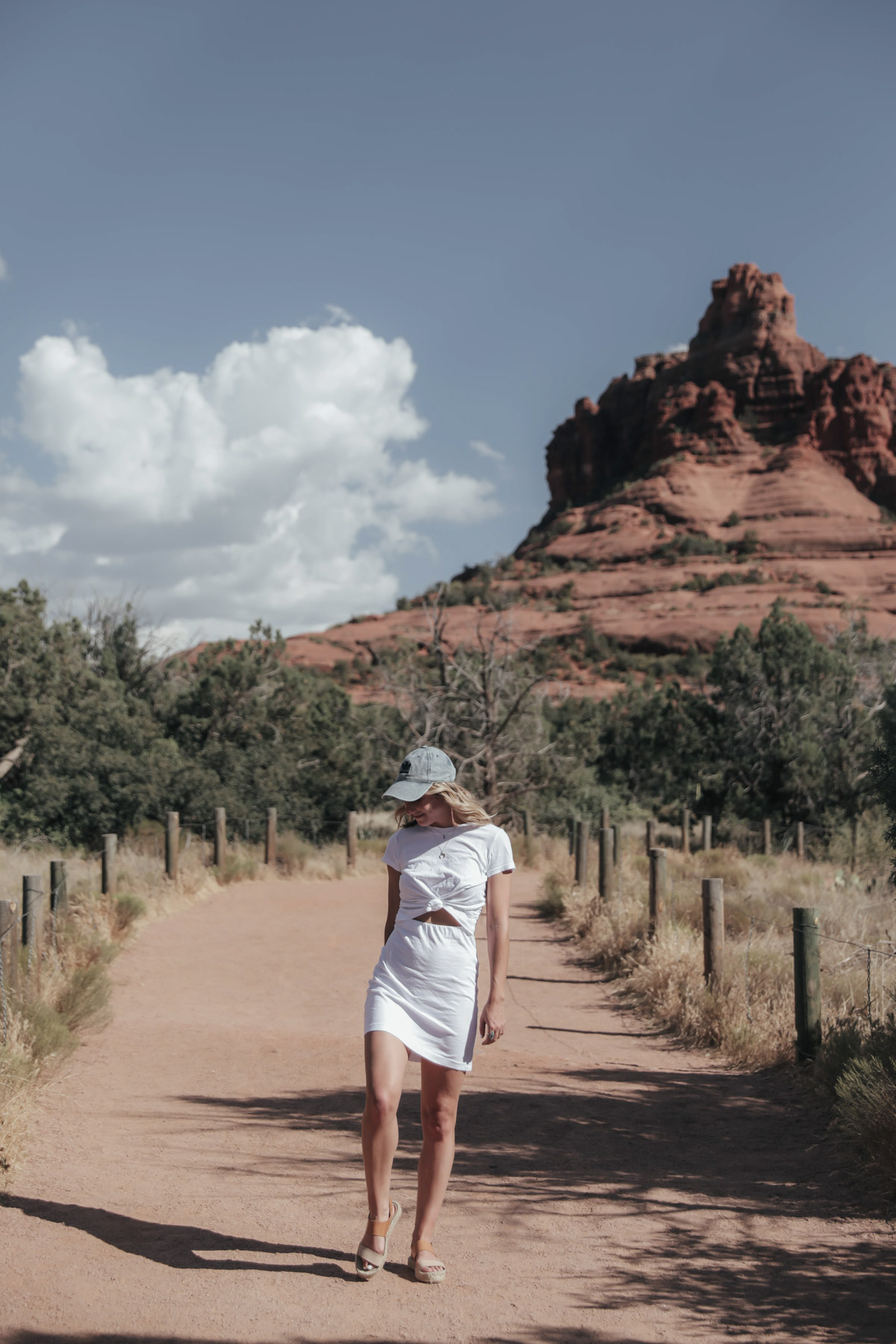 Devil's Bridge, Sedona, AZ
This was the first place during our road trip where I really felt that wow moment. I highly recommend hiking up to Devil's Bridge. It's about an hour hike from the parking lot and there are two options. One is pretty much a dirt path that car tours drive on, while the other is a little more scenic. Both end up at the same spot about twenty minutes from the top.
The rest of the hike is a legit hike and it's so much fun. Definitely wear good hiking shoes or sneakers with some grip for this! It gets steeper and steeper as you get closer to Devil's Bridge, and once you arrive, it is just breathtaking. Just look at these photos! Again, I'd recommend going around sunset. Just make sure to give yourself enough time to hike back before it gets dark (or bring flashlights!).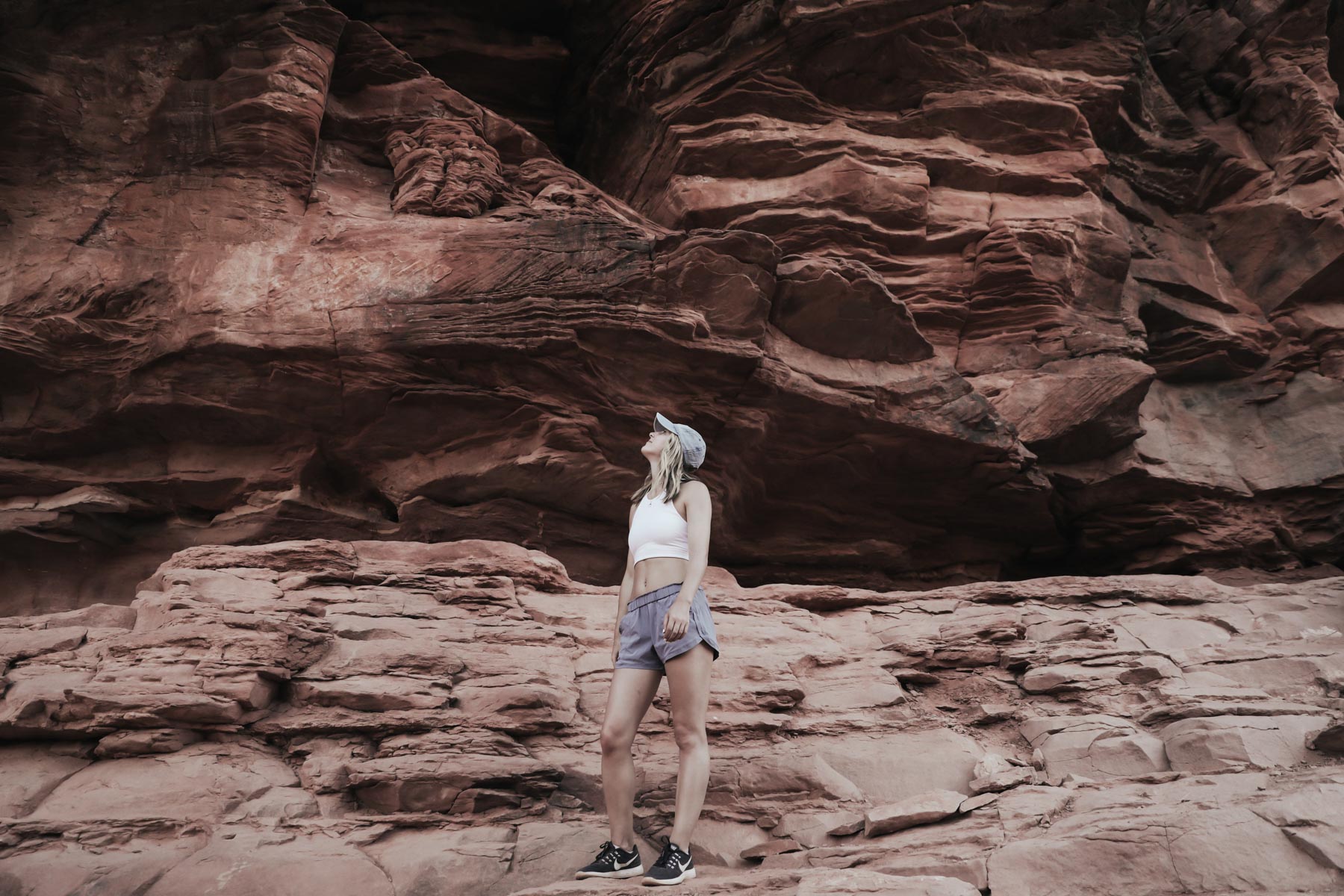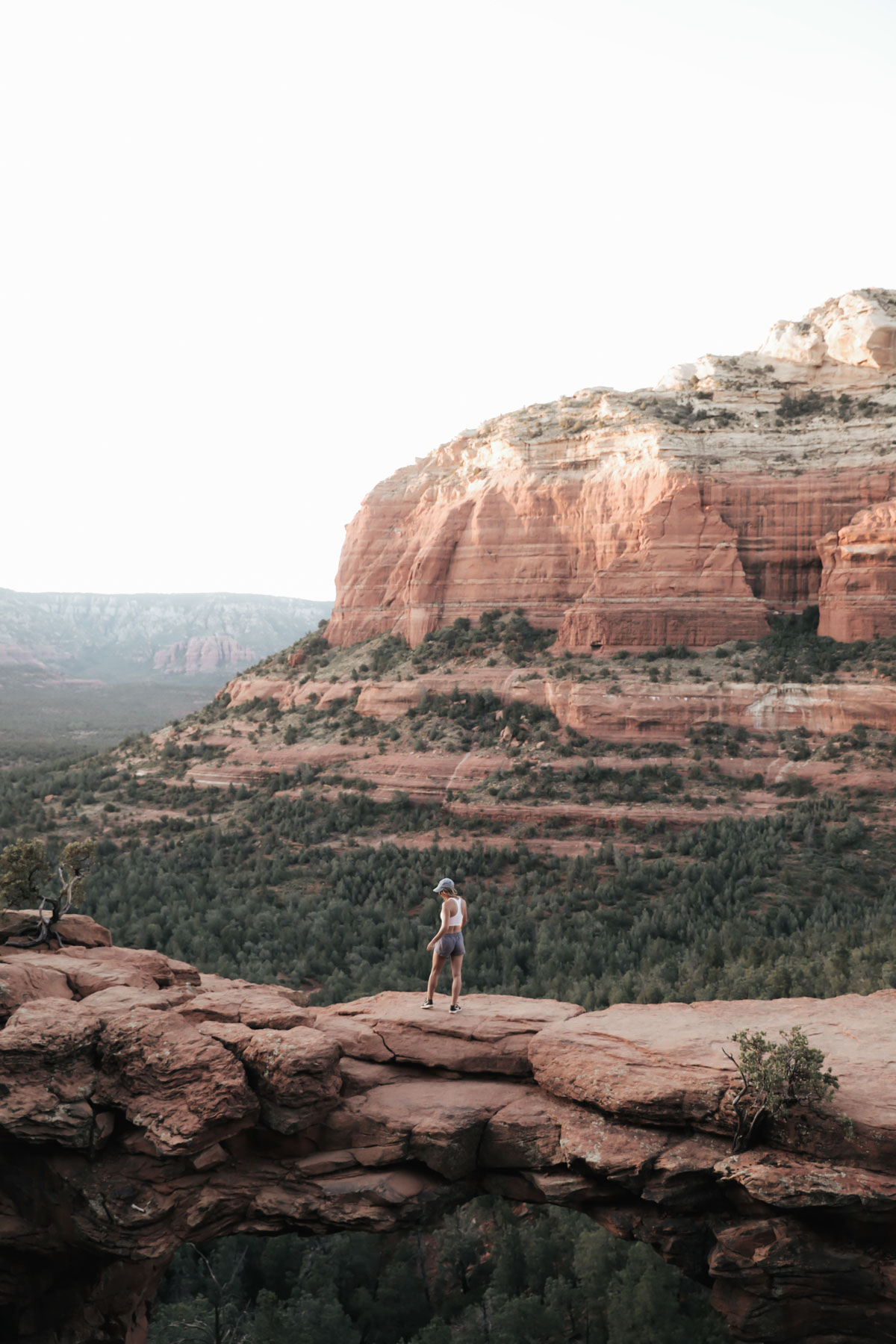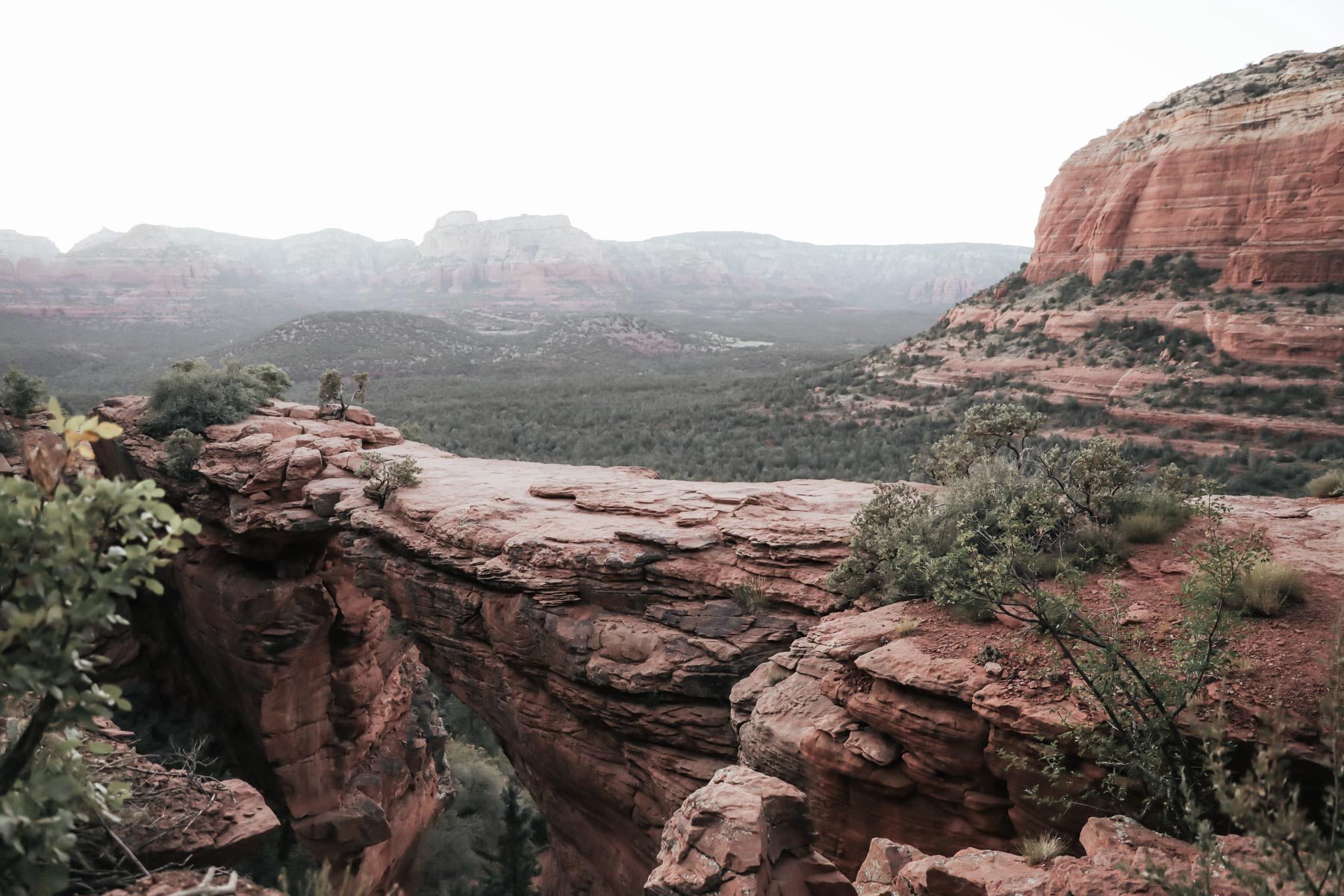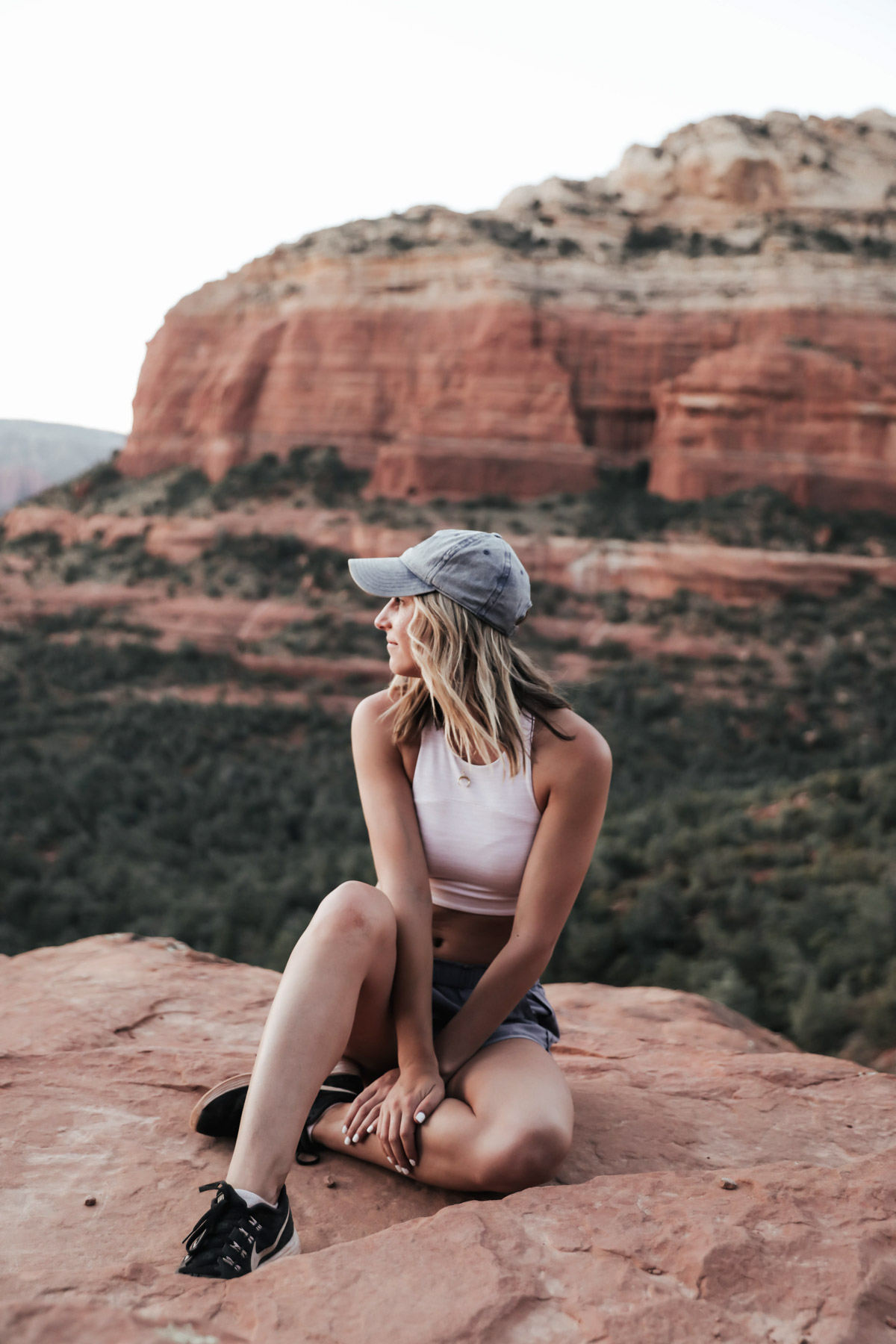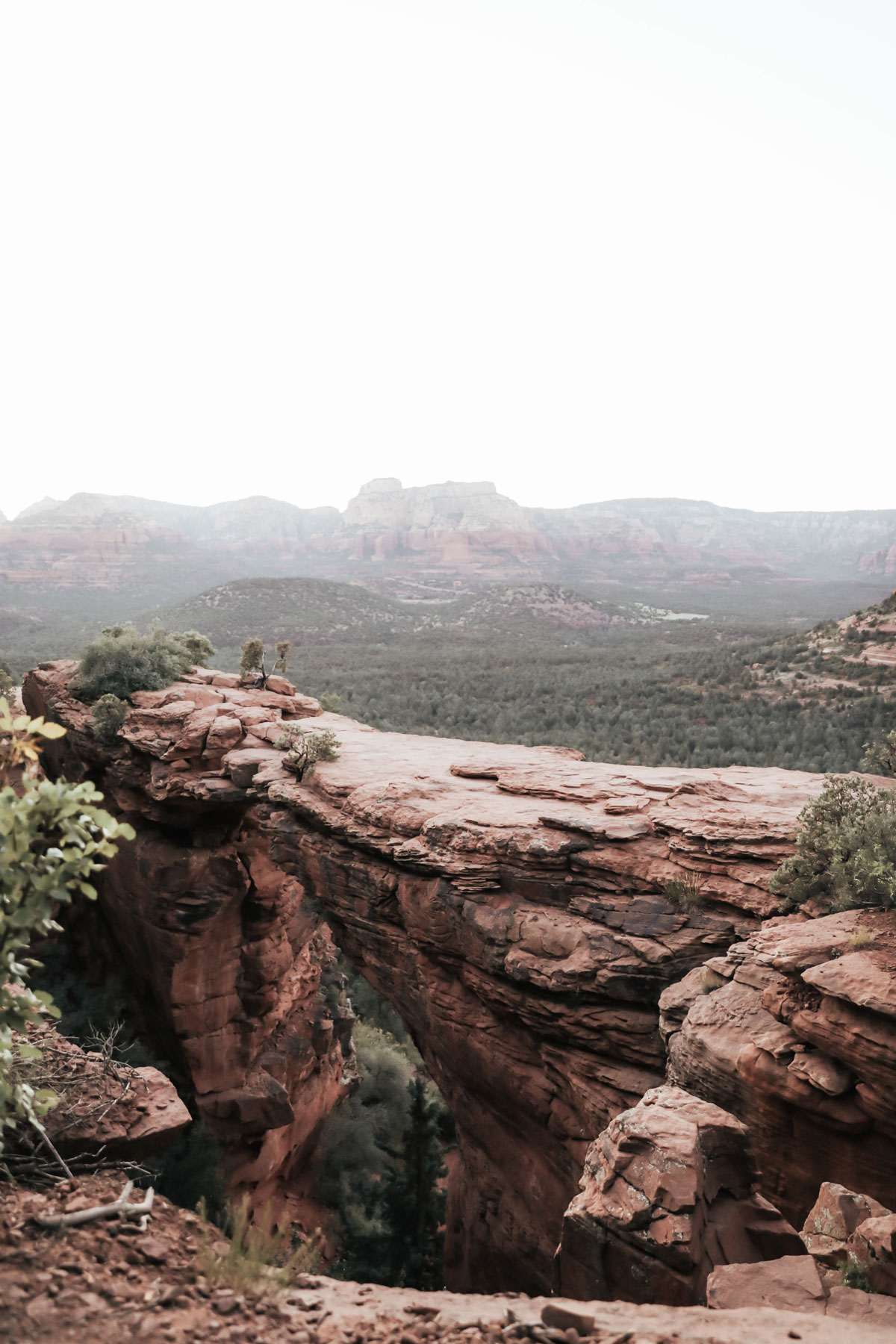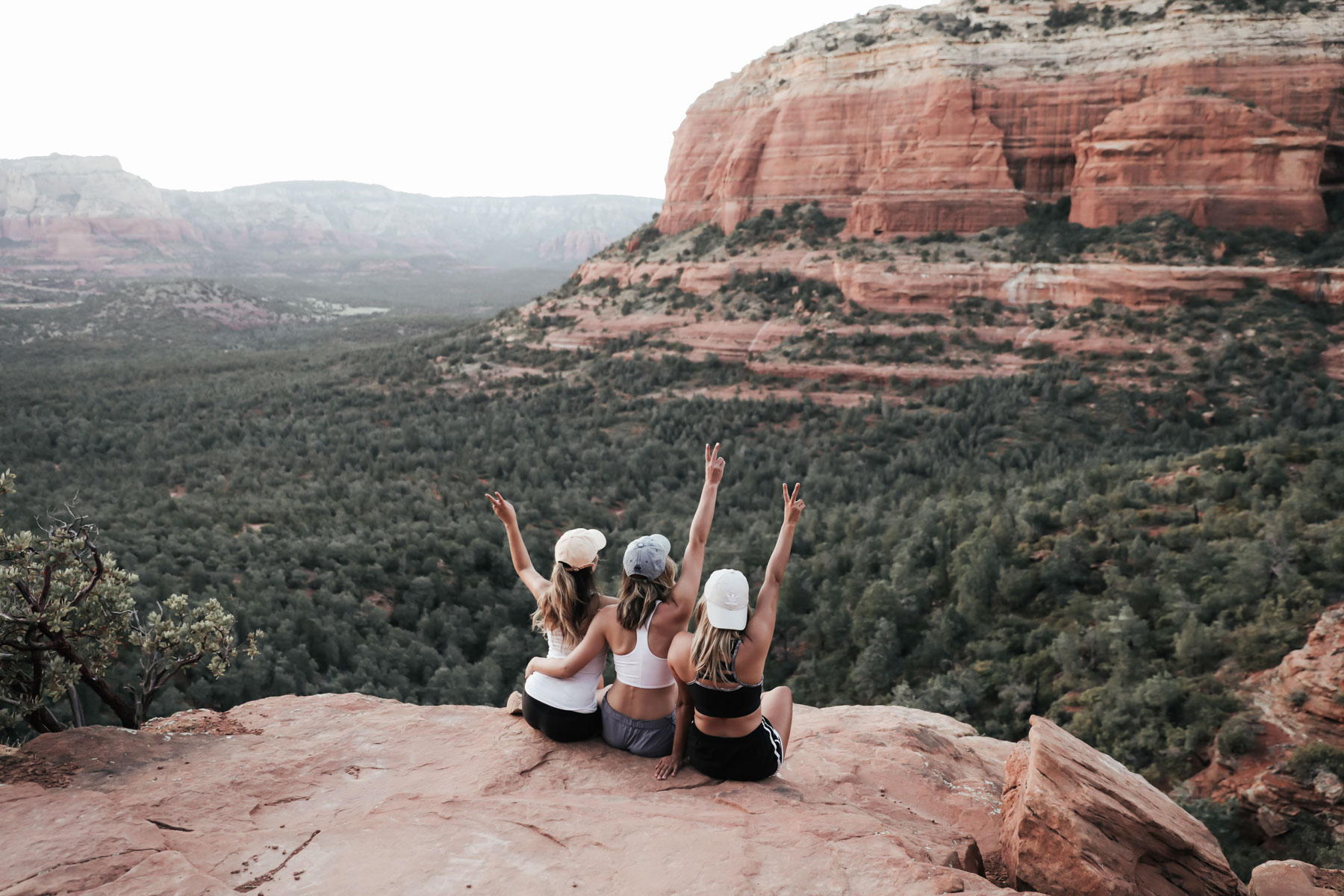 Grand Canyon South Rim, AZ
We spent the night about an hour outside Sedona so that we'd only have a 2 hour drive to the Grand Canyon in the morning. We chose to do the South Rim since it was more convenient for the route we chose to take. It was a spectacular site. I'd say it's more touristy than the other locations, but still worth seeing for sure. There are also paths you can walk on that go down into the canyon if you want to hike a bit. Along the drive out of the Grand Canyon, you can also pull over and get some great views.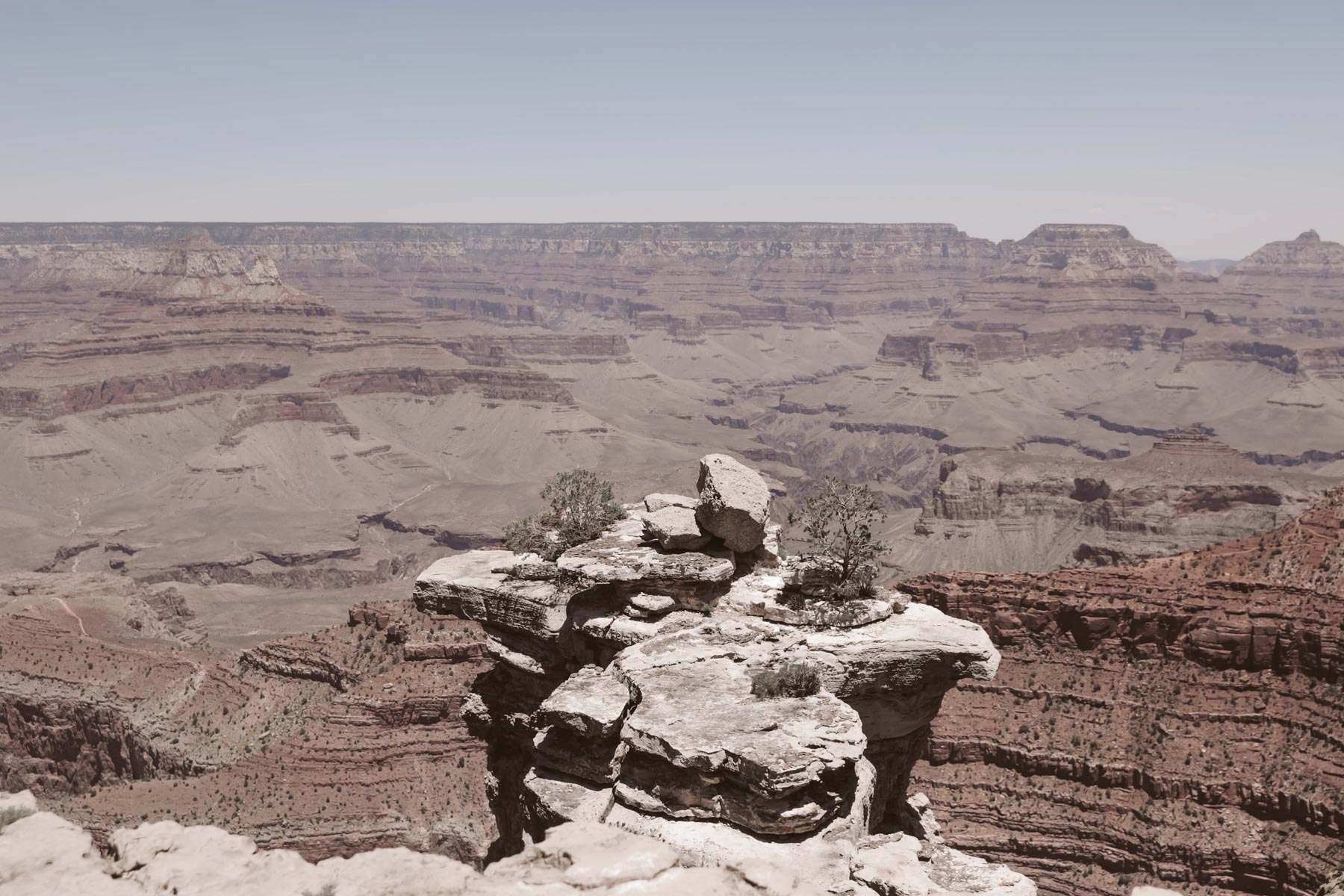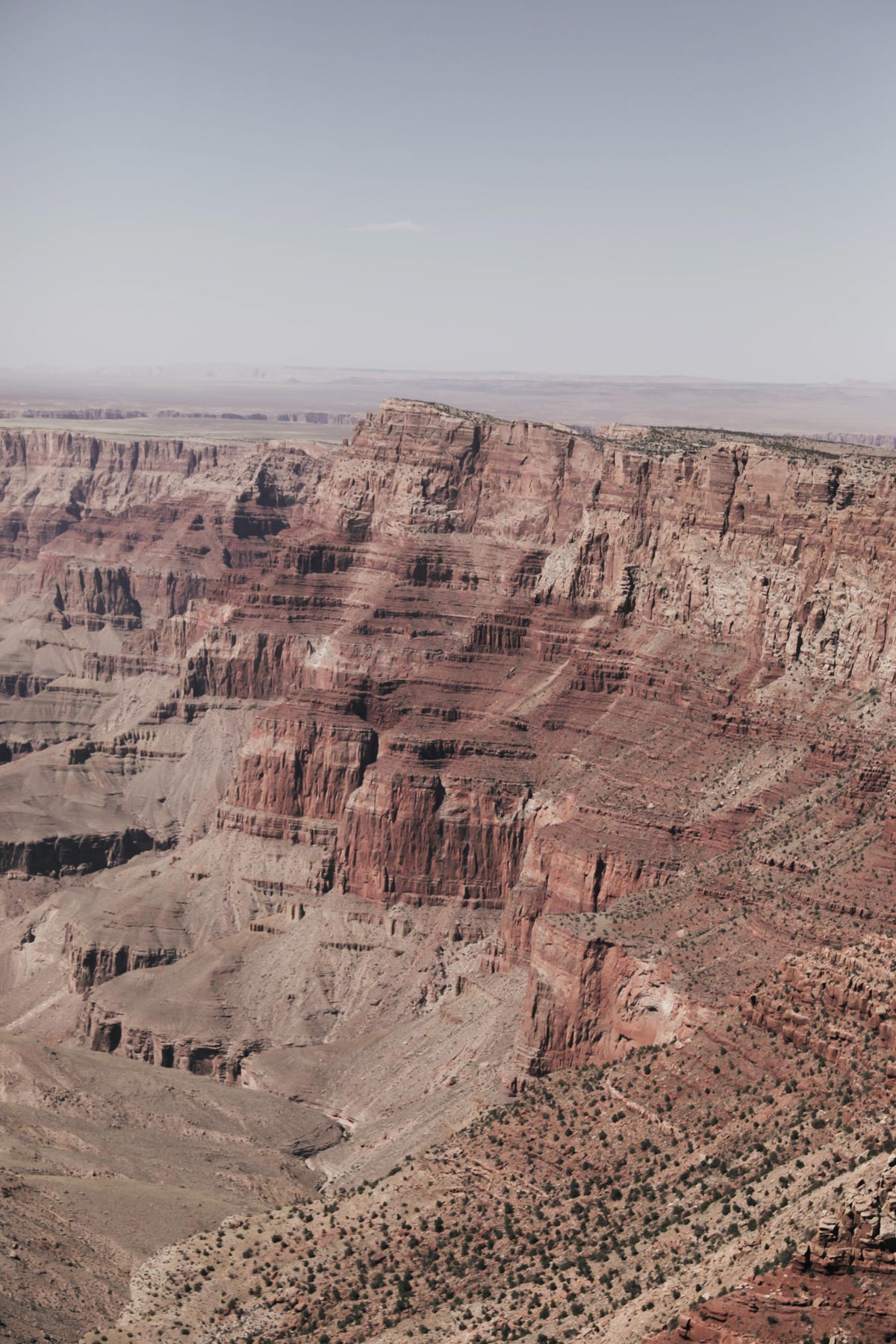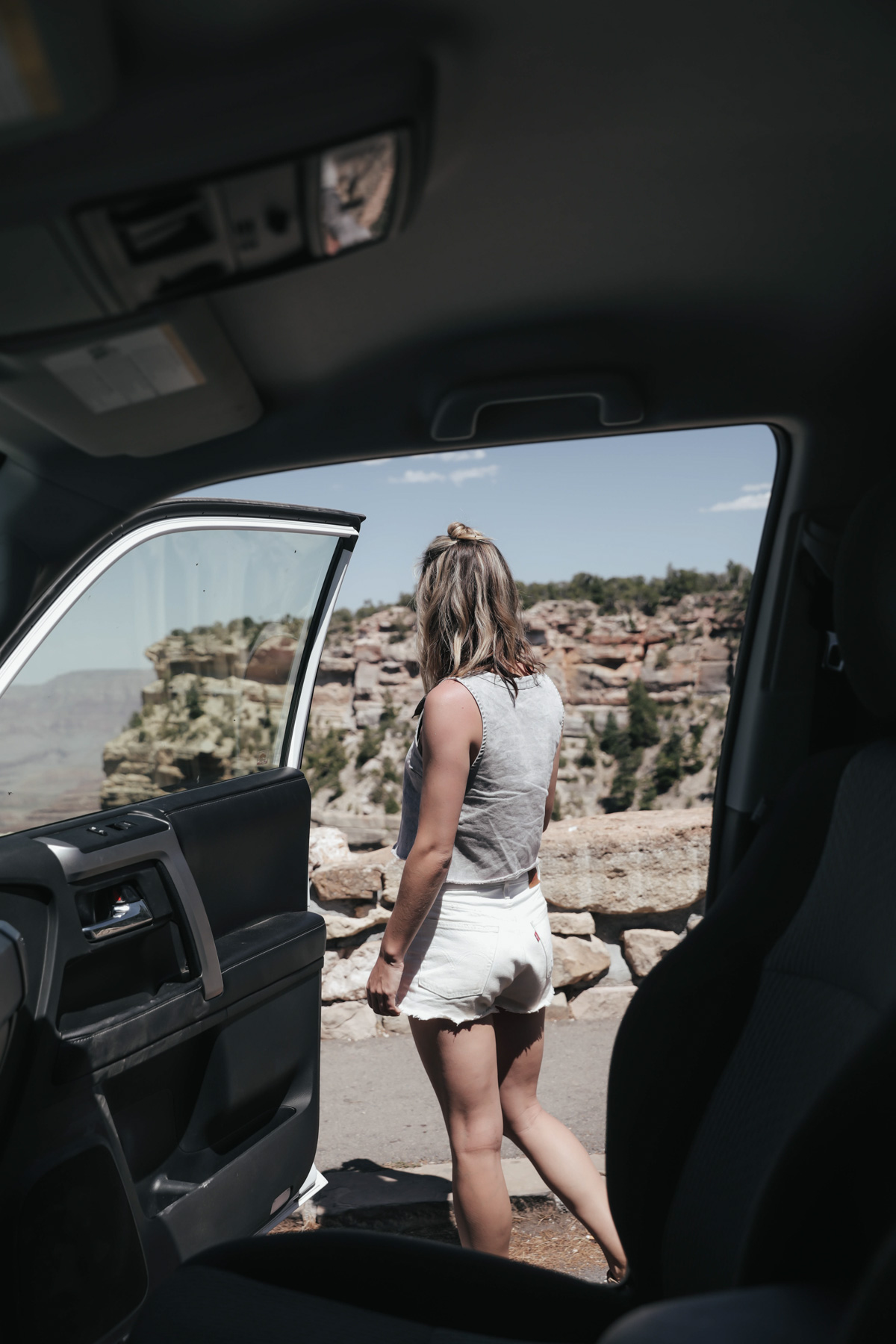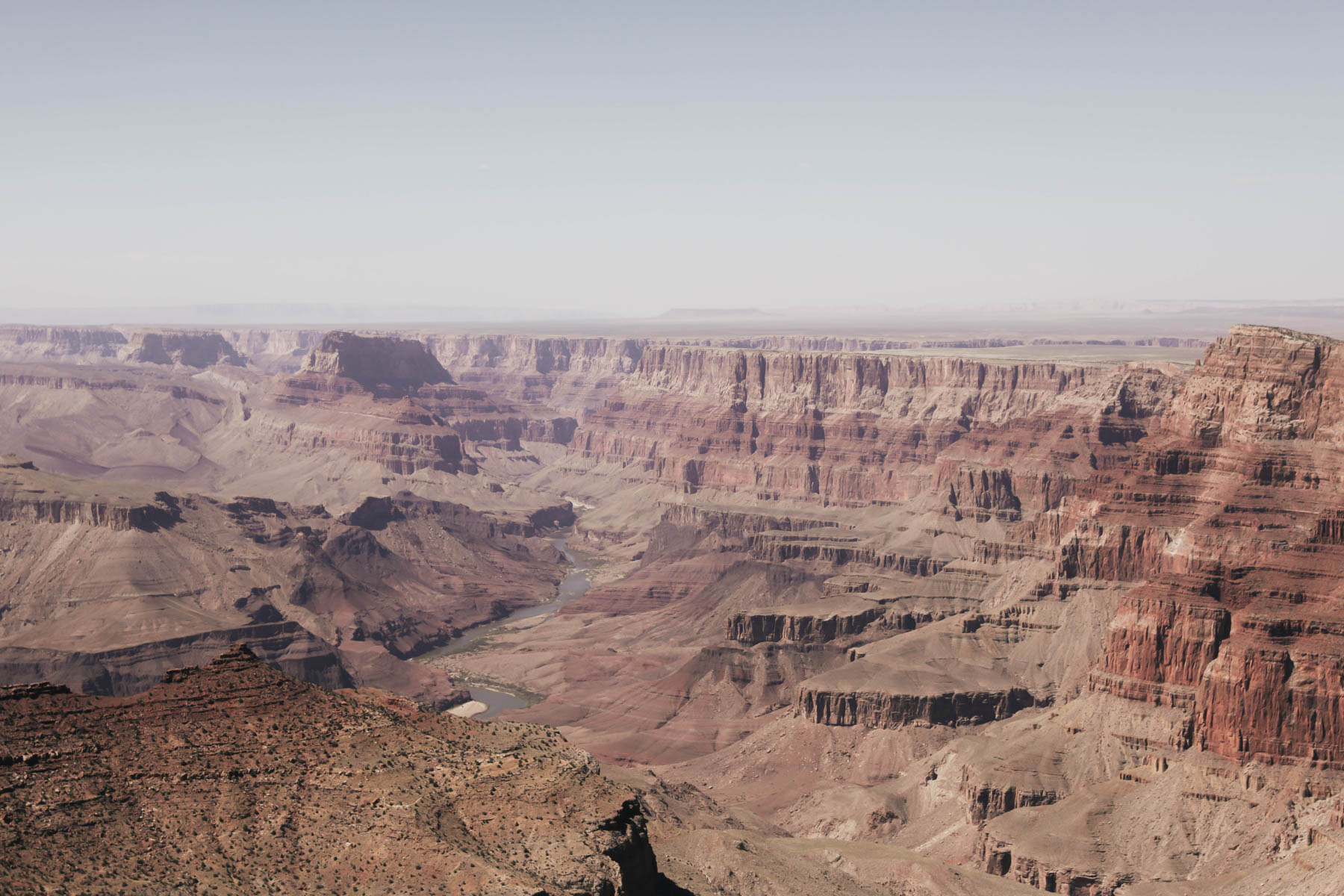 Horseshoe Bend, Page, AZ
After the Grand Canyon, we drove just 2 hours to get to Horseshoe Bend in Page, AZ. I was absolutely in awe of Horseshoe Bend! You basically park in a big lot right off the highway and walk down a path for about 15 minutes. I remember wondering if we were in the right place because we couldn't see it until we were about 5 minutes away. And then it comes into view and it's just incredible. I'd recommend going at sunrise if you can get yourself to wake up! There is absolutely no one there and the light is incredible. My favorite part of Horseshoe Bend is that it doesn't feel touristy. There are no railings or buildings around to distract from the beautiful view. You can also explore the rocks to the right and get all different views. It's incredible! I wore this denim top & shorts combo with some comfortable sandals.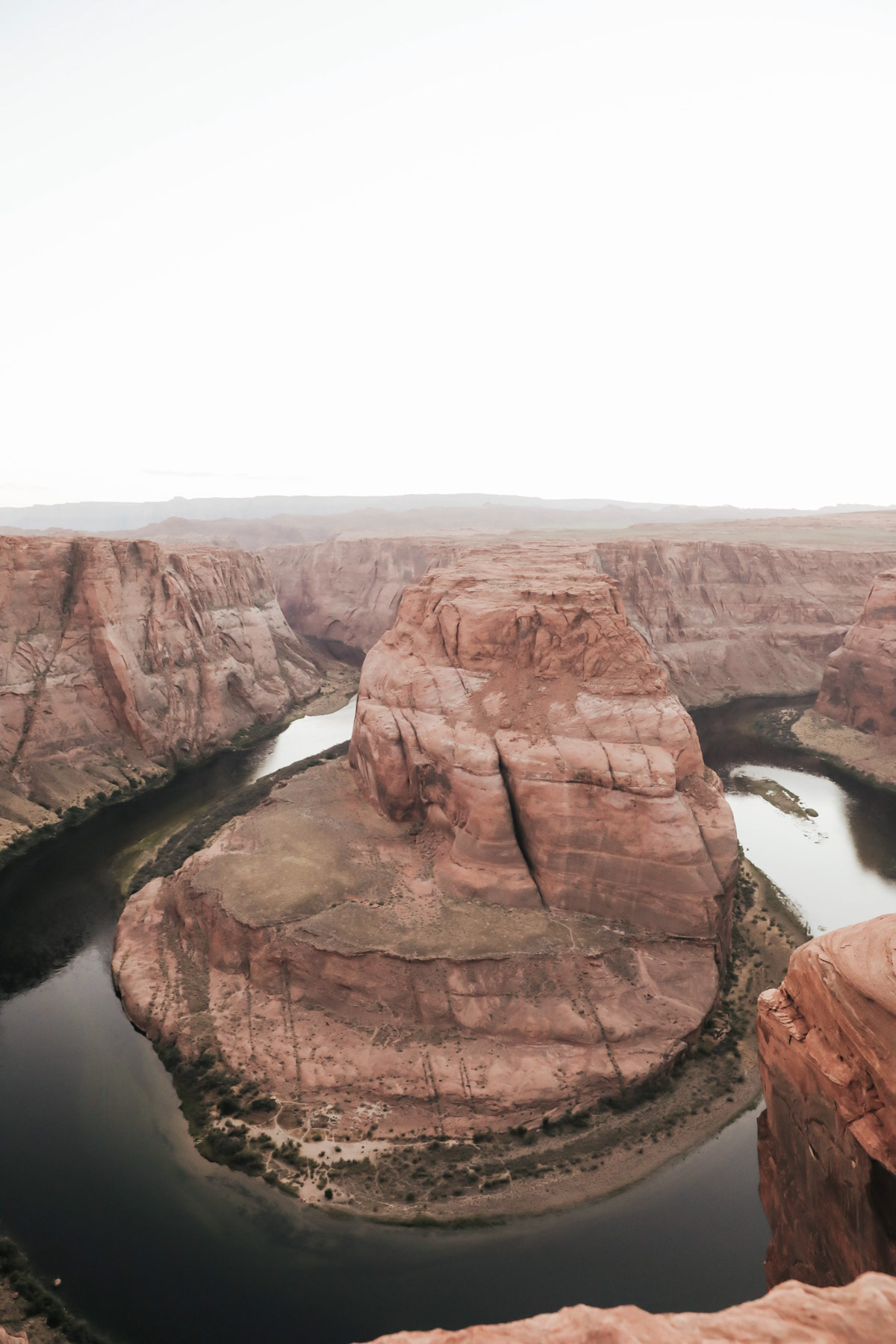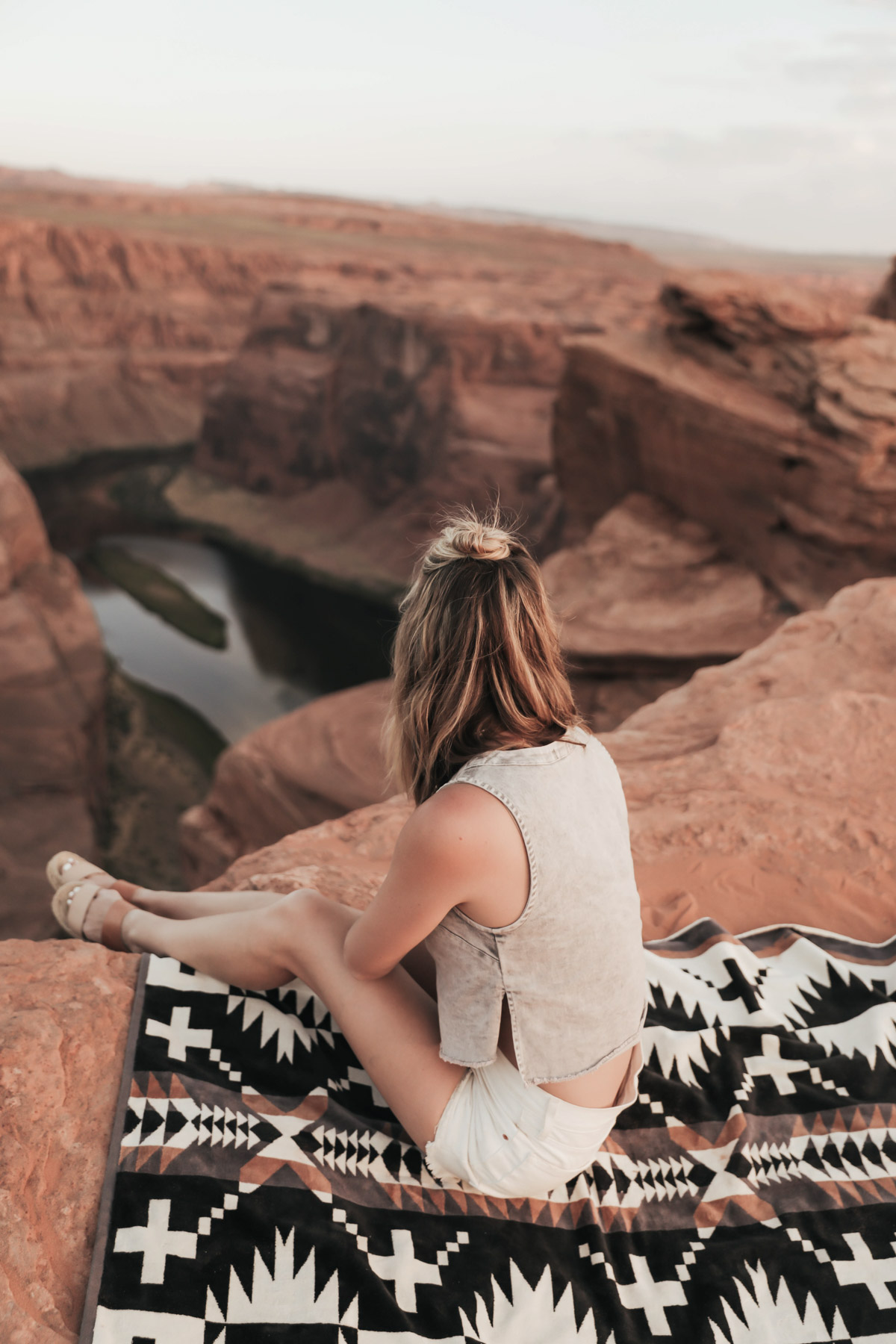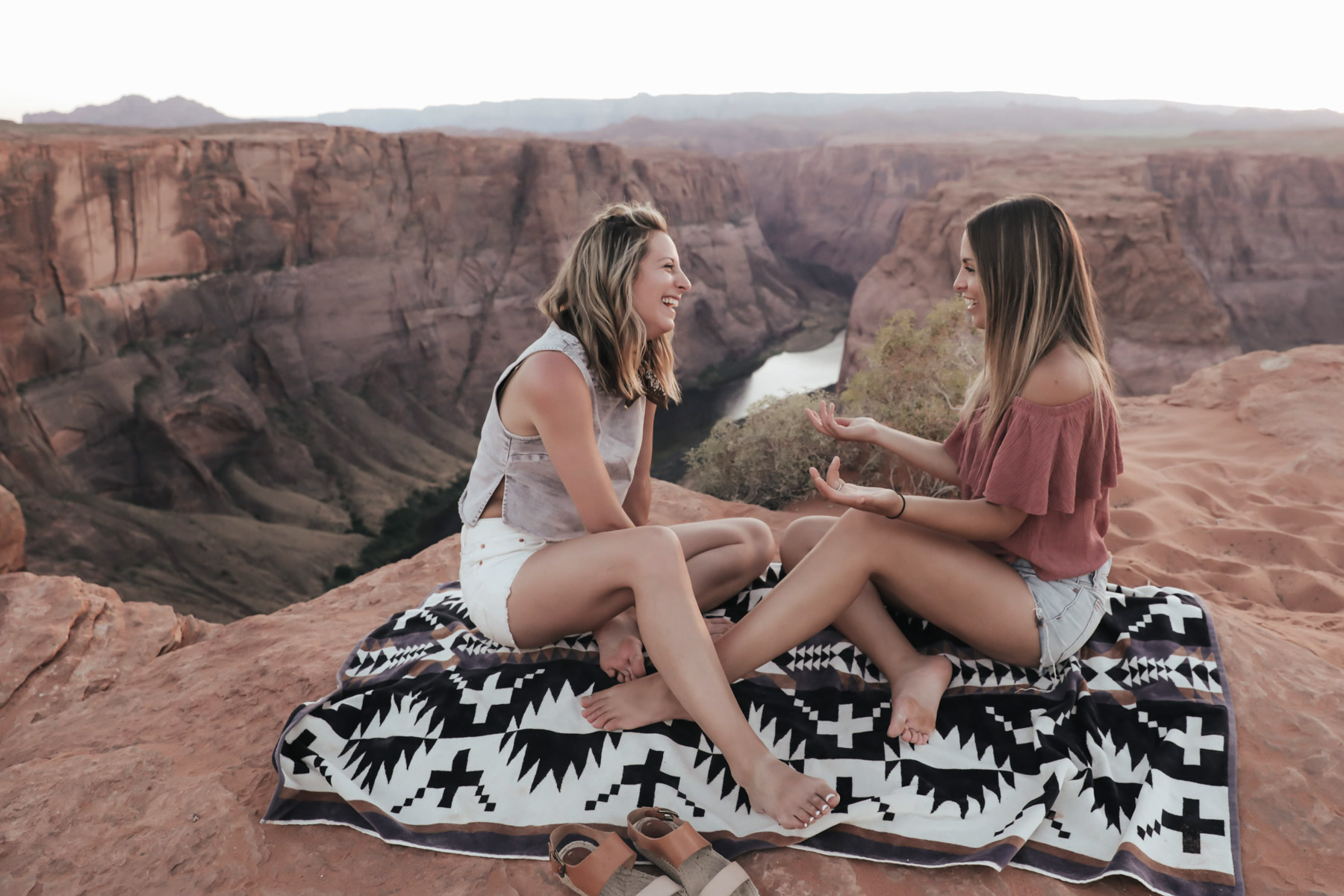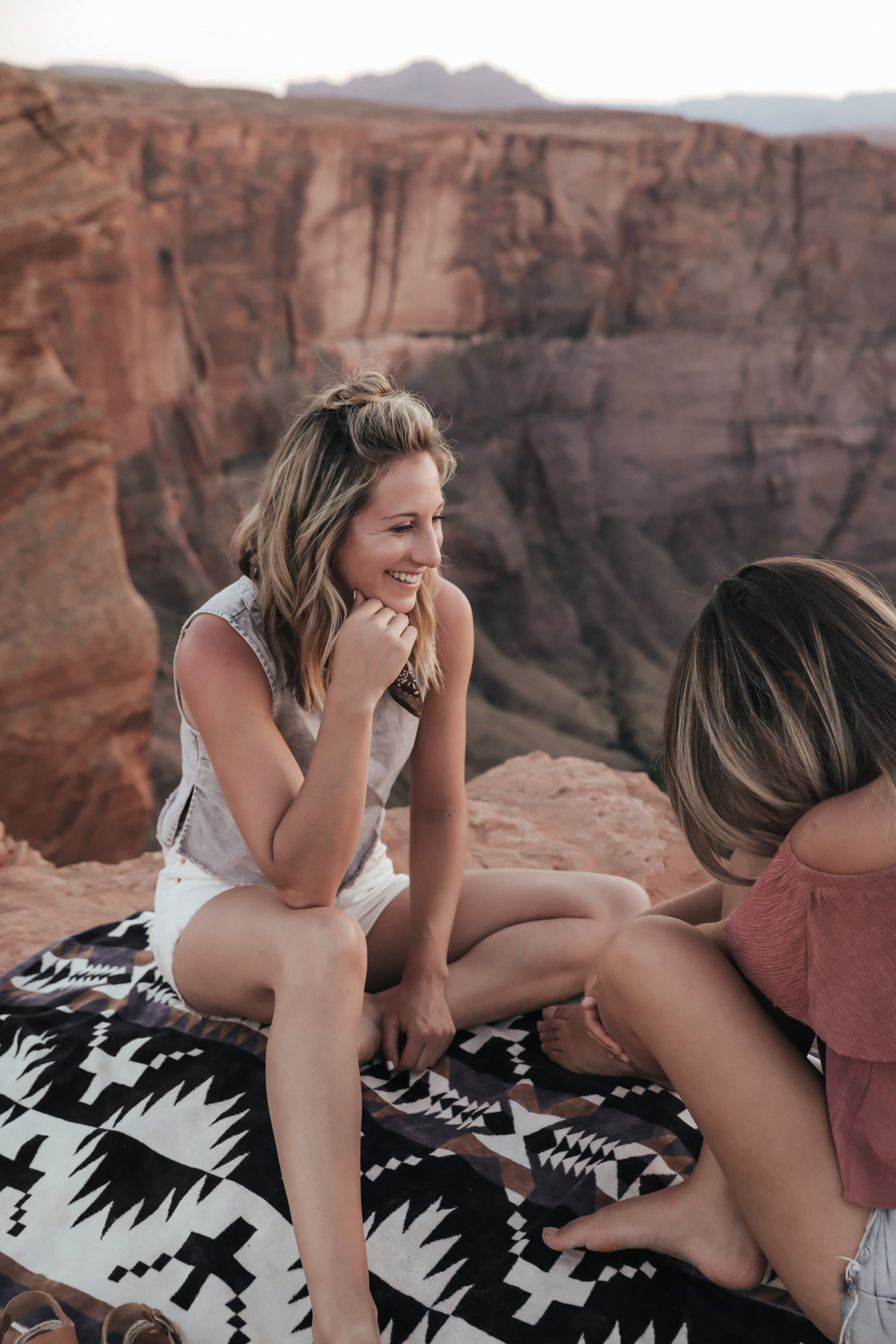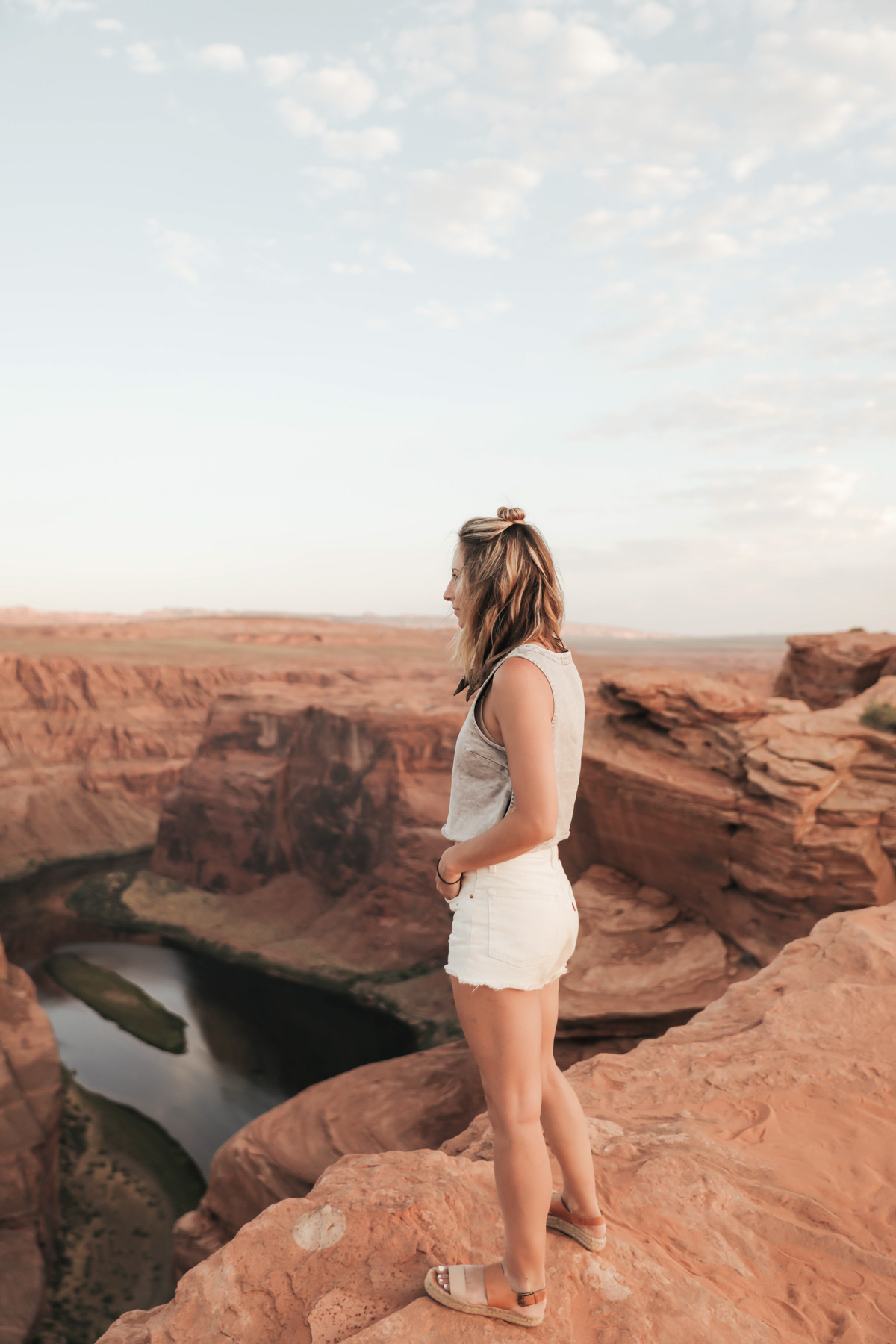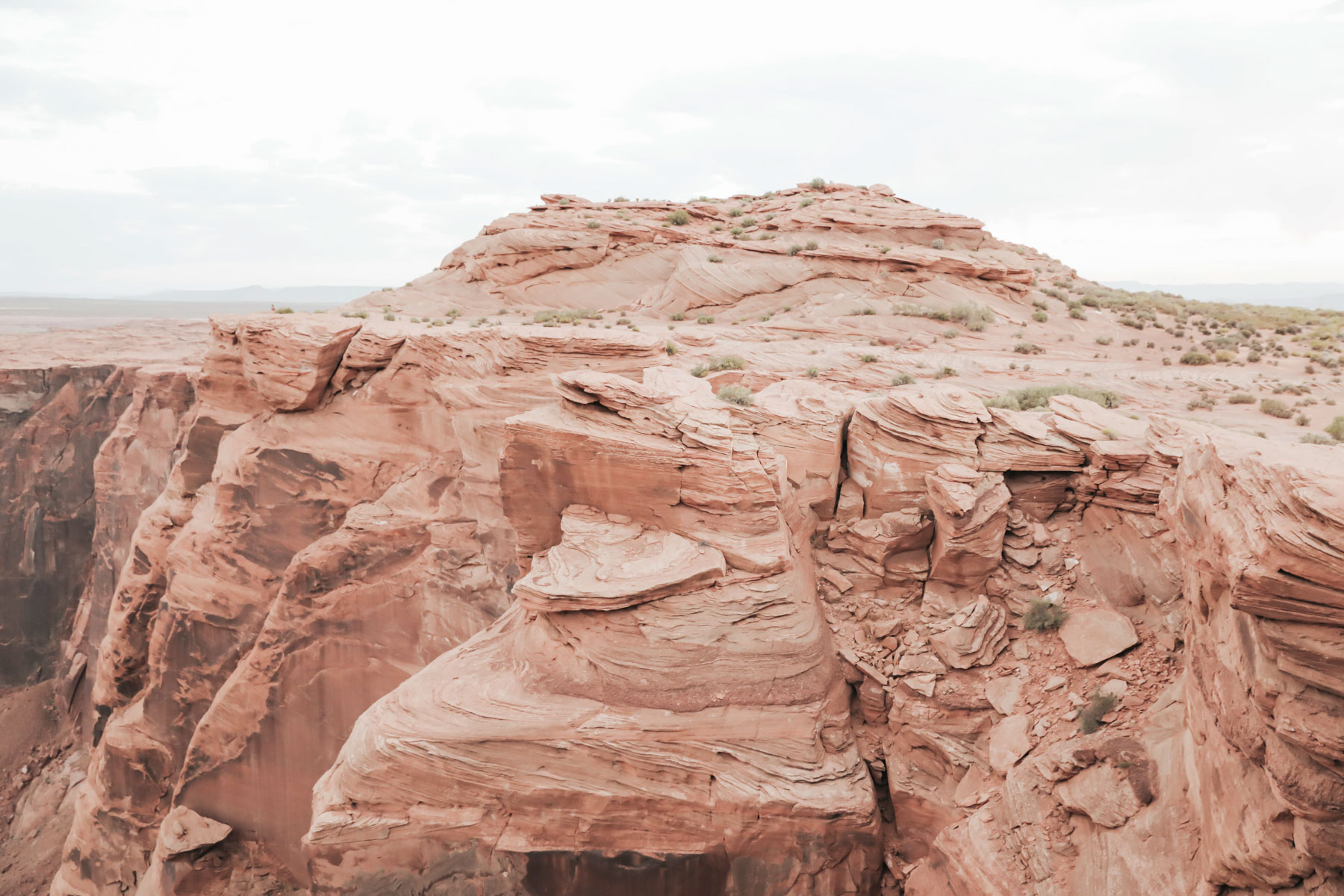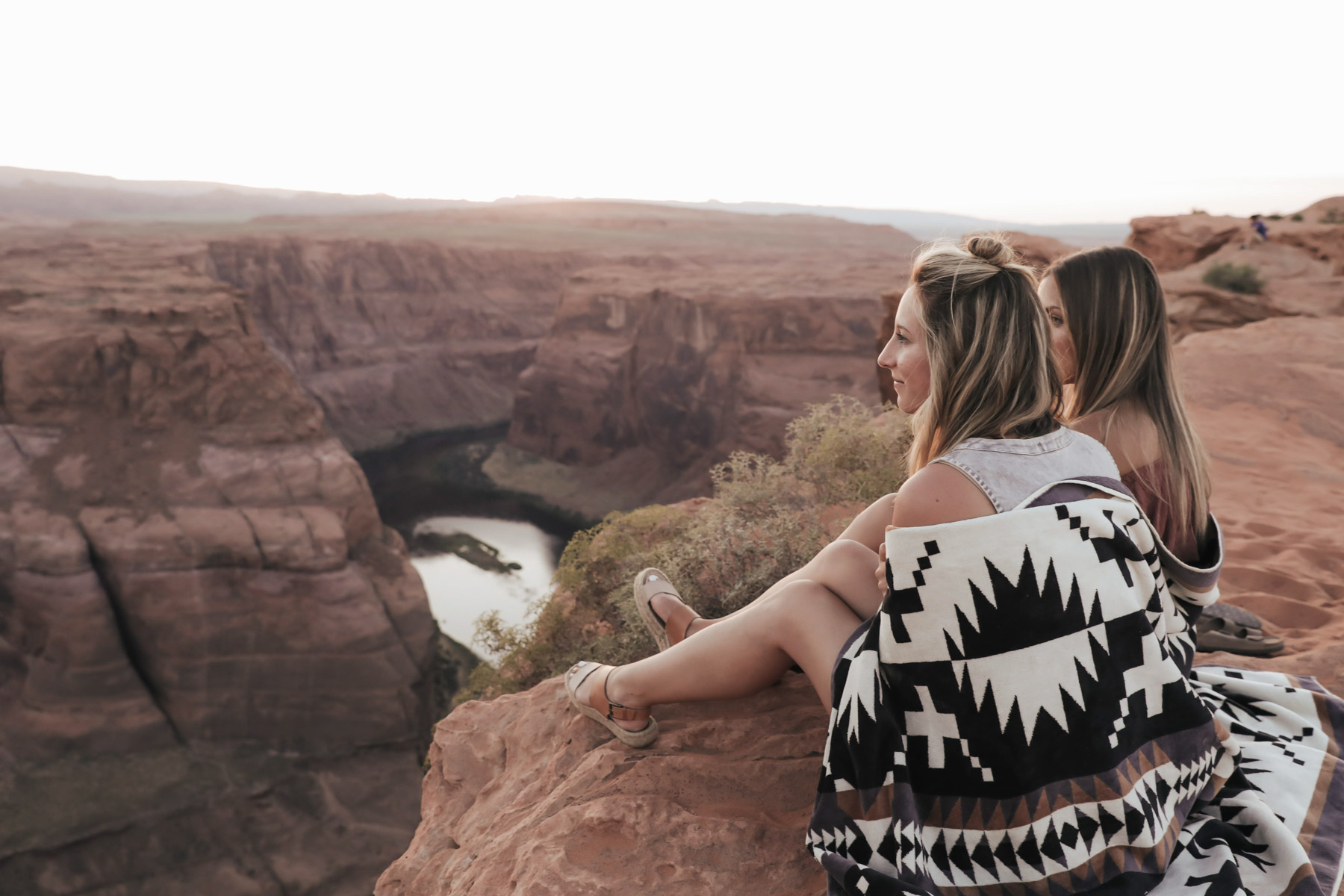 Lower Antelope Canyon, Page, AZ
Antelope Canyon is also in Page, AZ, so we went straight there after spending sunrise at Horseshoe Bend. In order to explore Antelope Canyon, you need to book a reservation online. Lower Antelope Canyon is closer to Page. It has more tight spaces (as shown below), while Upper is more open spaces with larger light beams coming through. They're both amazing, but I will say, it was a total zoo. We had to wait in a line for two hours in the hot sun just to get into the canyon. The guides pretty much push you through so you can't really spend much time in one place. It is a spectacular sight, but not the most relaxing experience.
Also note: Antelope Canyon is on a Native American Reservation where they do not do day light savings. So be sure to call and ask what time it is so you don't miss your reservation!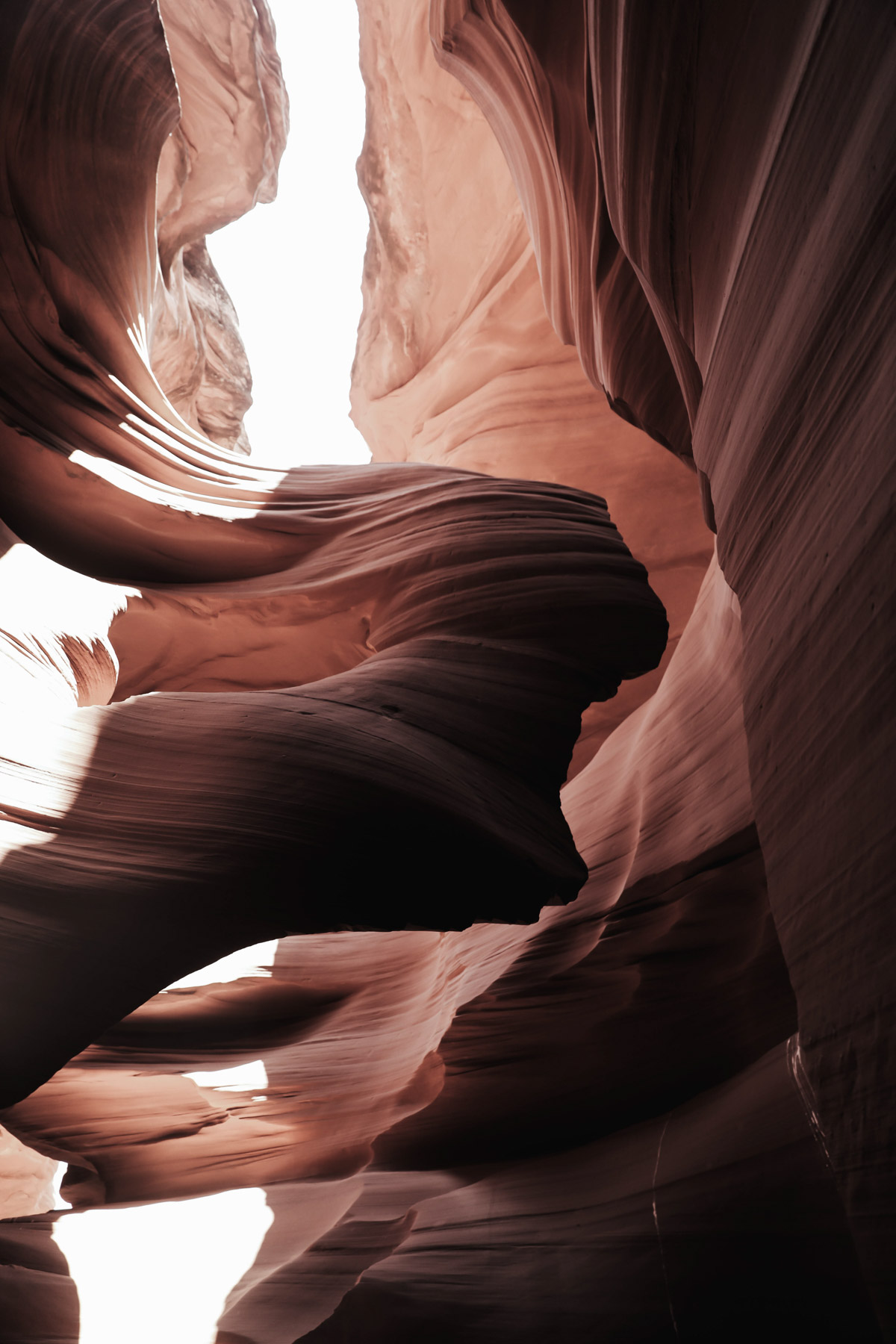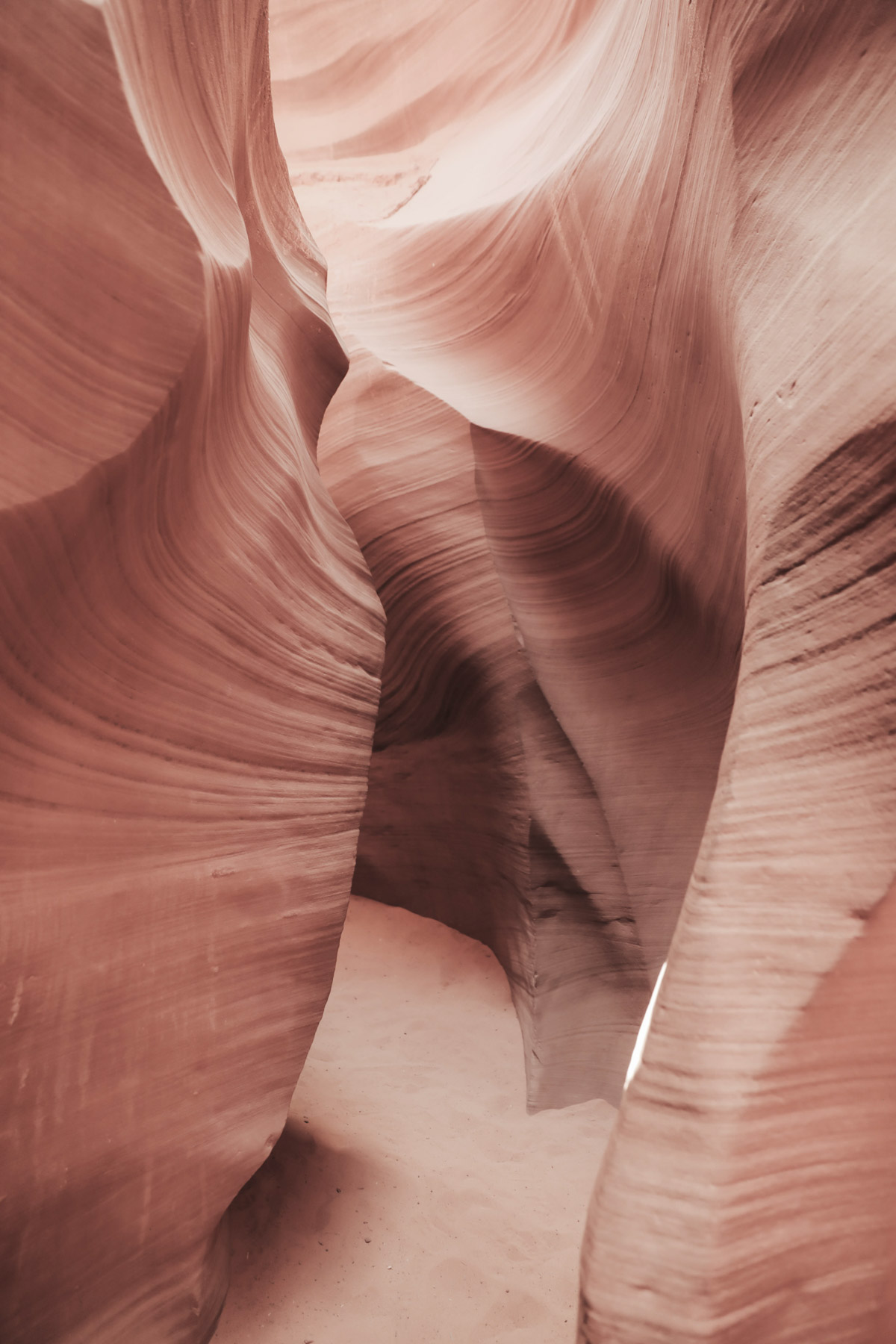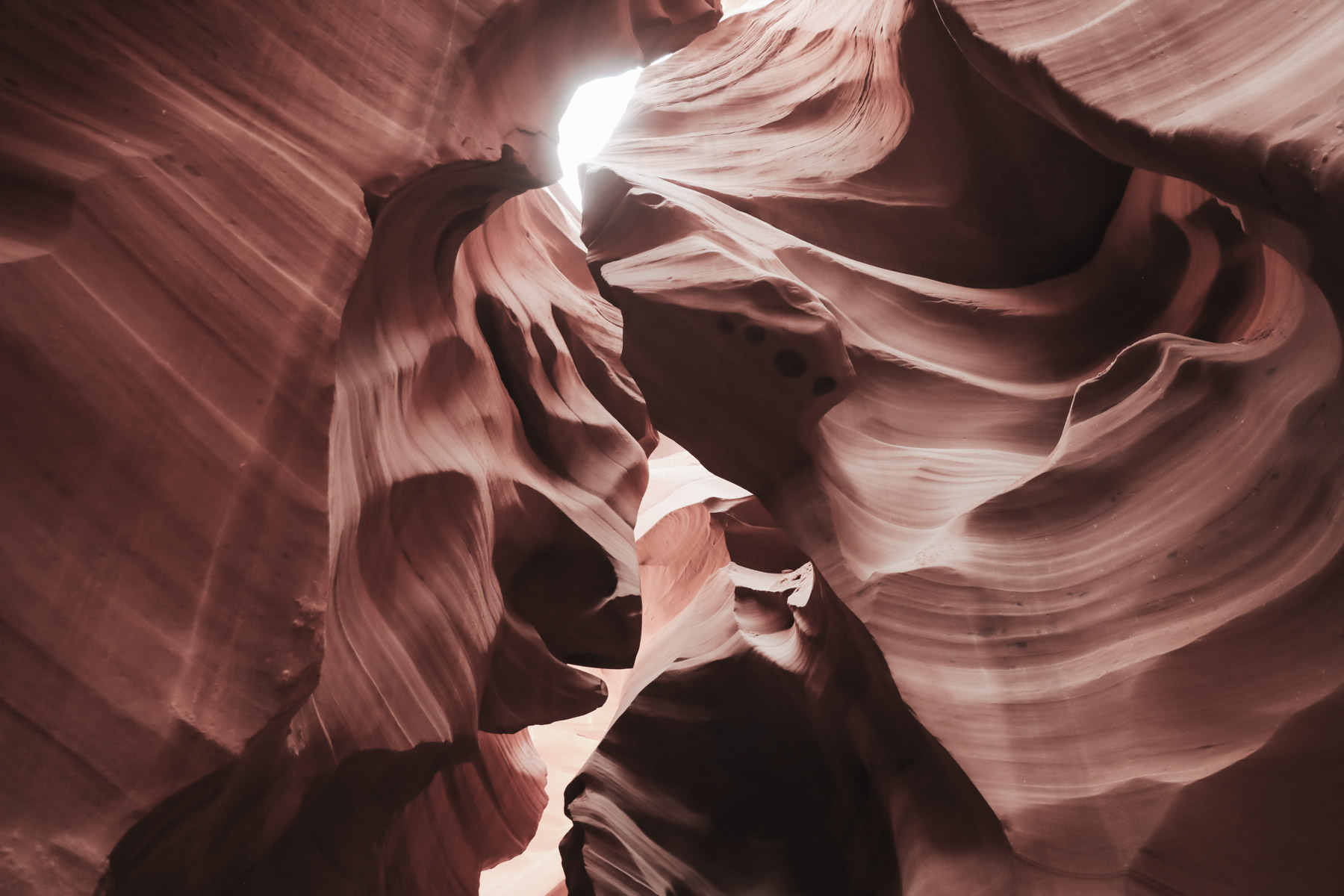 Basecamp37, Kanab, AZ
Finally, my favorite part of the trip! We decided to spend a night glamping at Basecamp37 in Kanab, AZ. Kanab is just on the border of Arizona and Utah, about an hour from Zion National Park. It's a great place to stay if you want to go to all these places (Zion, Grand Canyon, Horseshoe Bend, and Antelope Canyon). You feel like you're in the middle of nowhere, surrounded by views of canyons. It's the most peaceful place I think I've ever been. The tents are beautifully decorated with a cozy, rustic feel. There's a main house with a kitchen, bathrooms, showers, a grill, and a firepit. It's the perfect balance between the serenity of true camping and still having some basic amenities. I hung out in this incredibly comfortable jumpsuit and some Birkenstocks.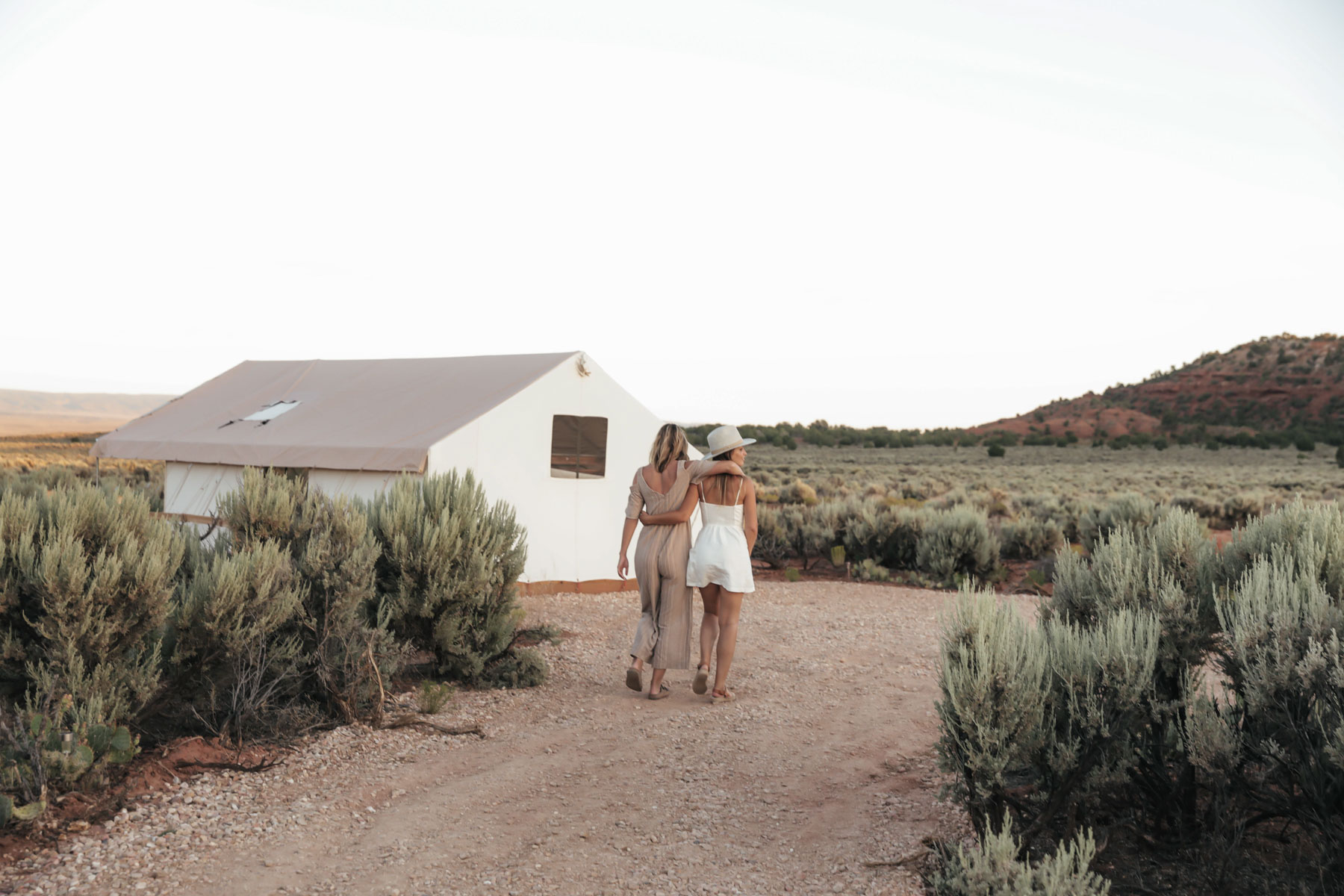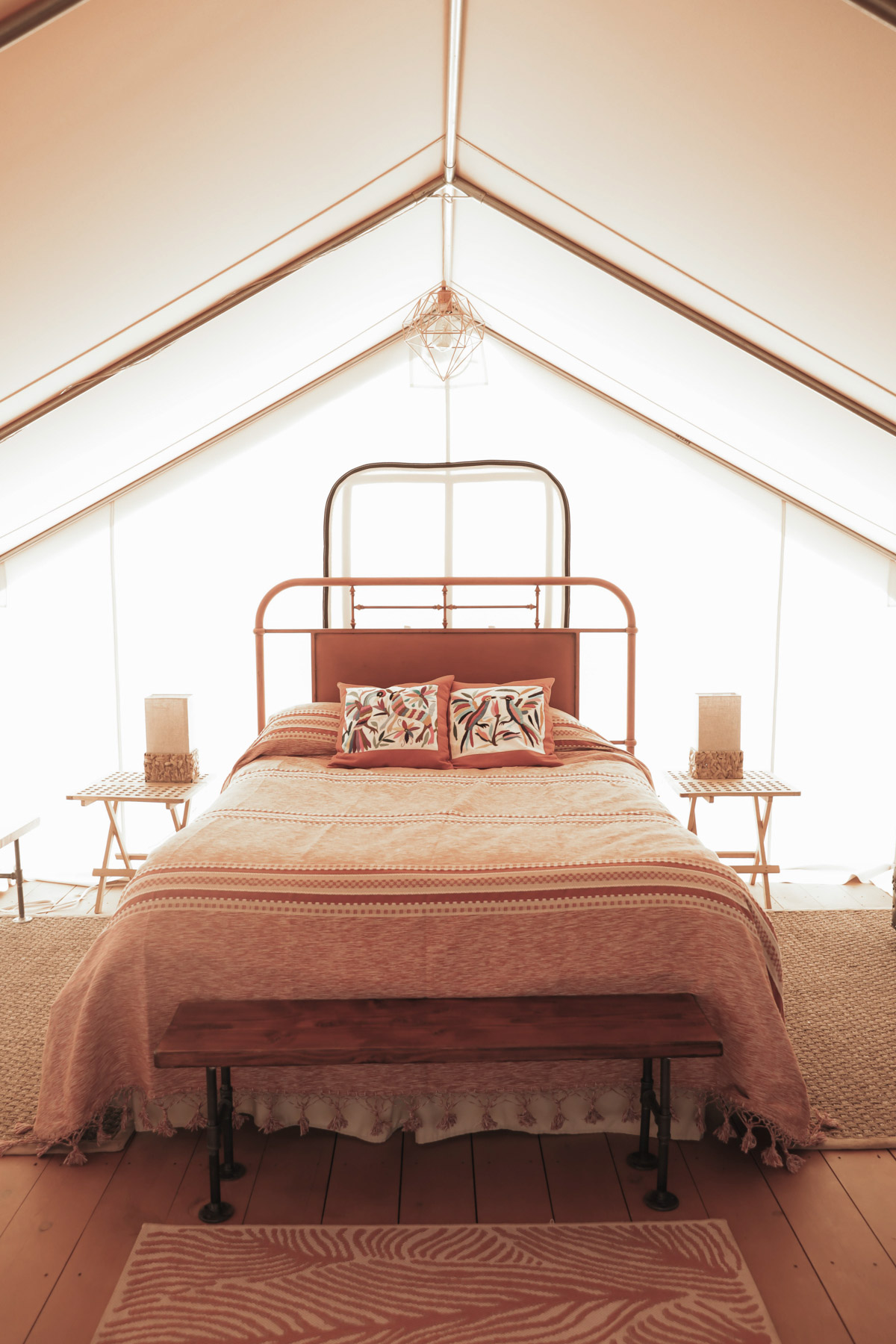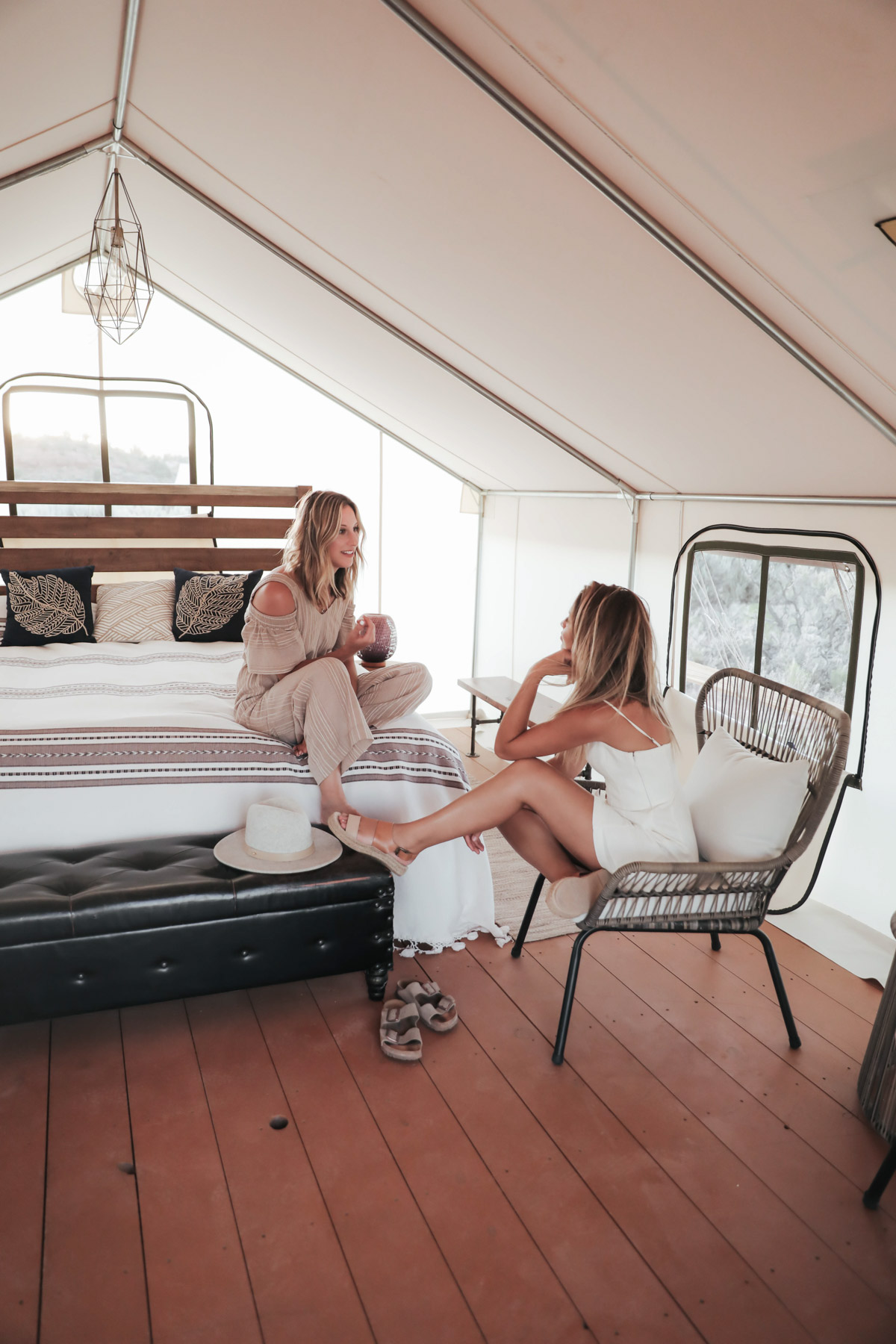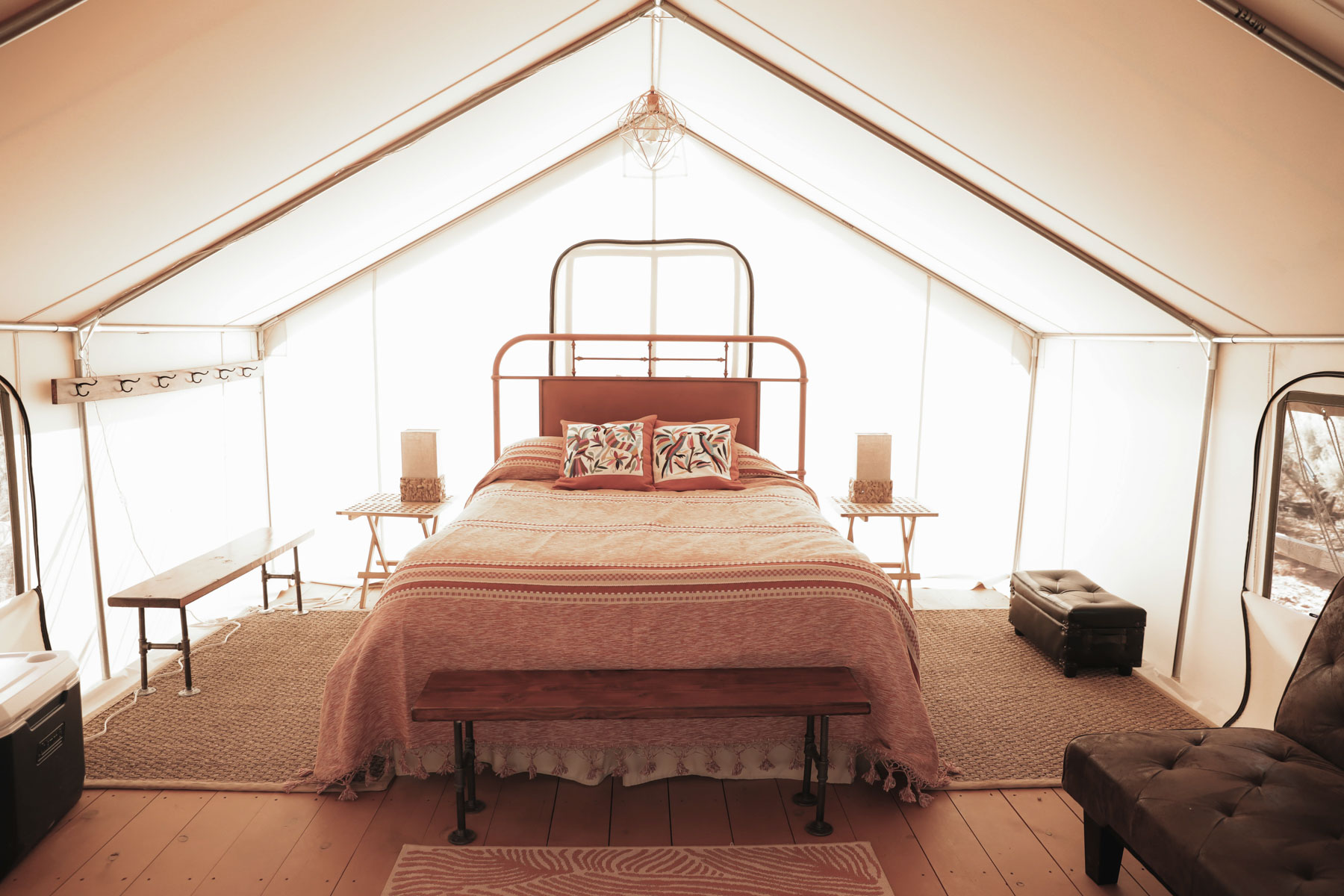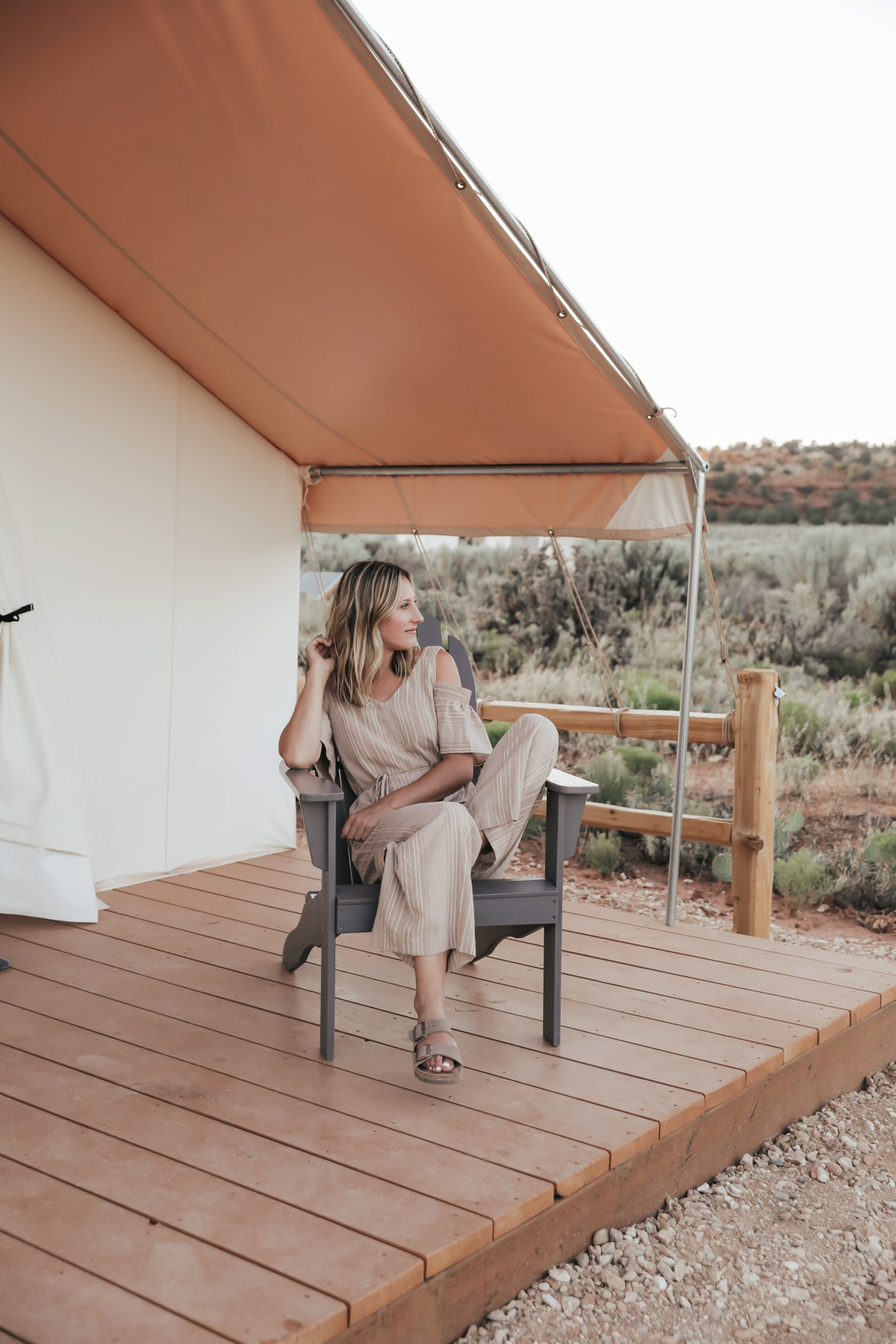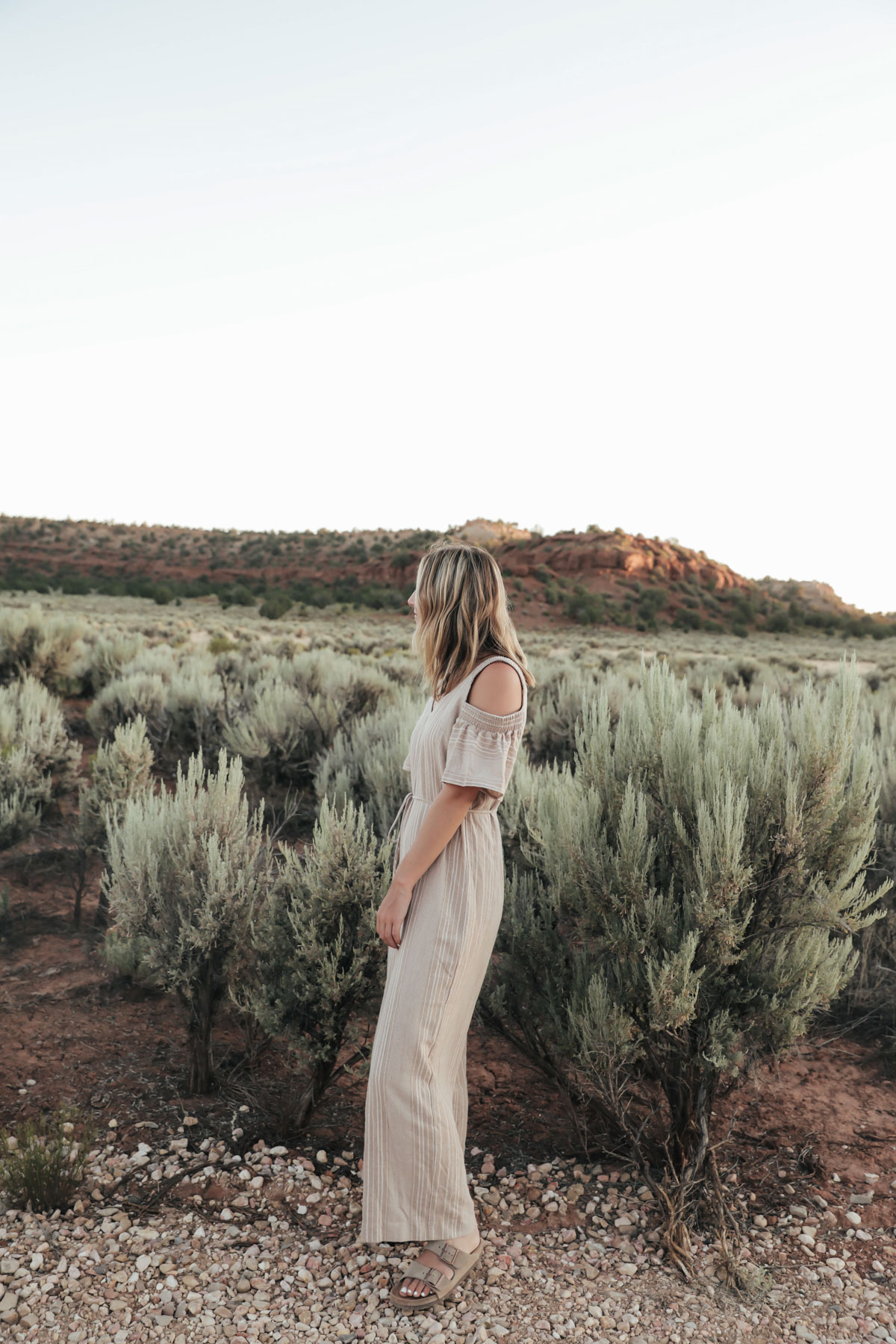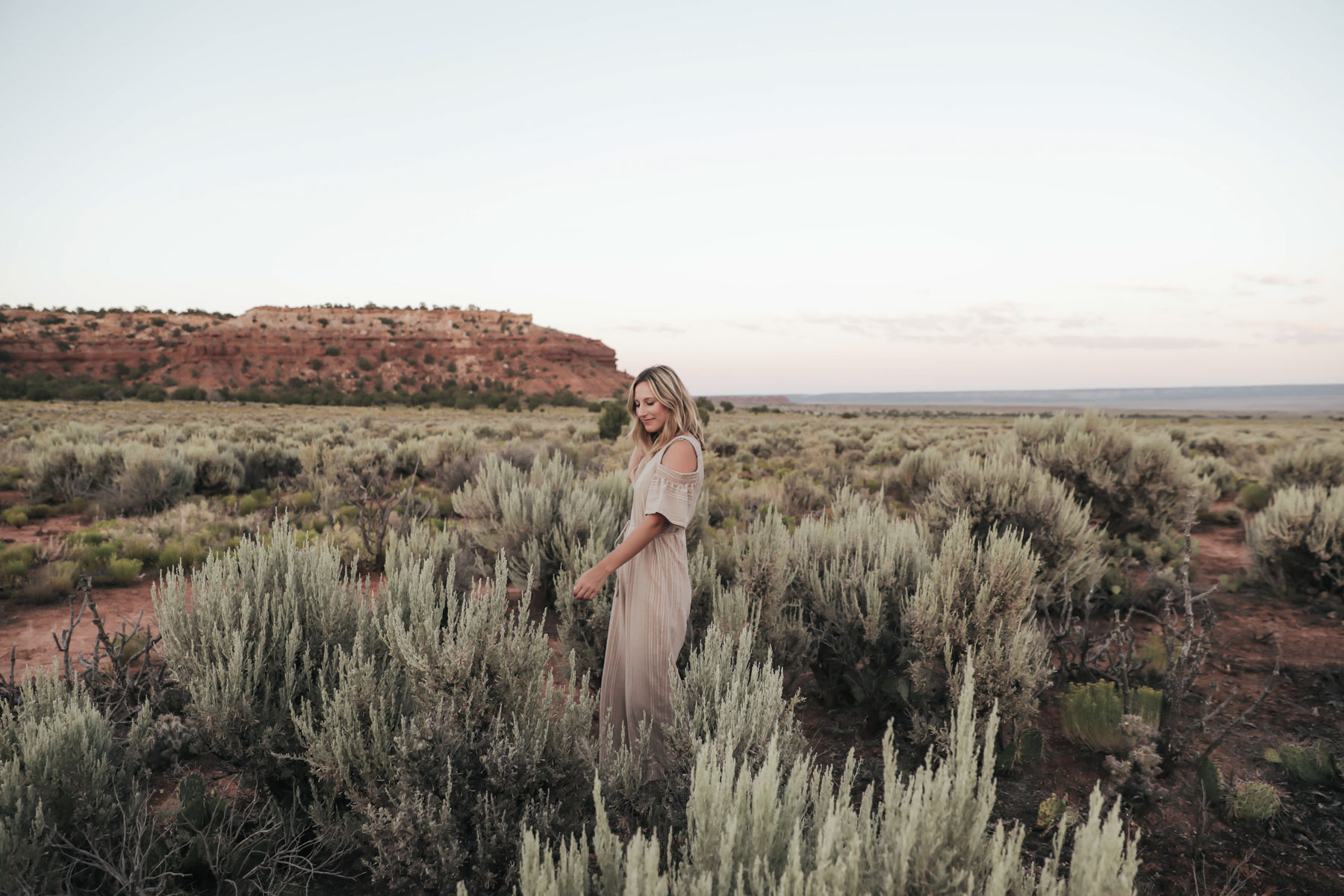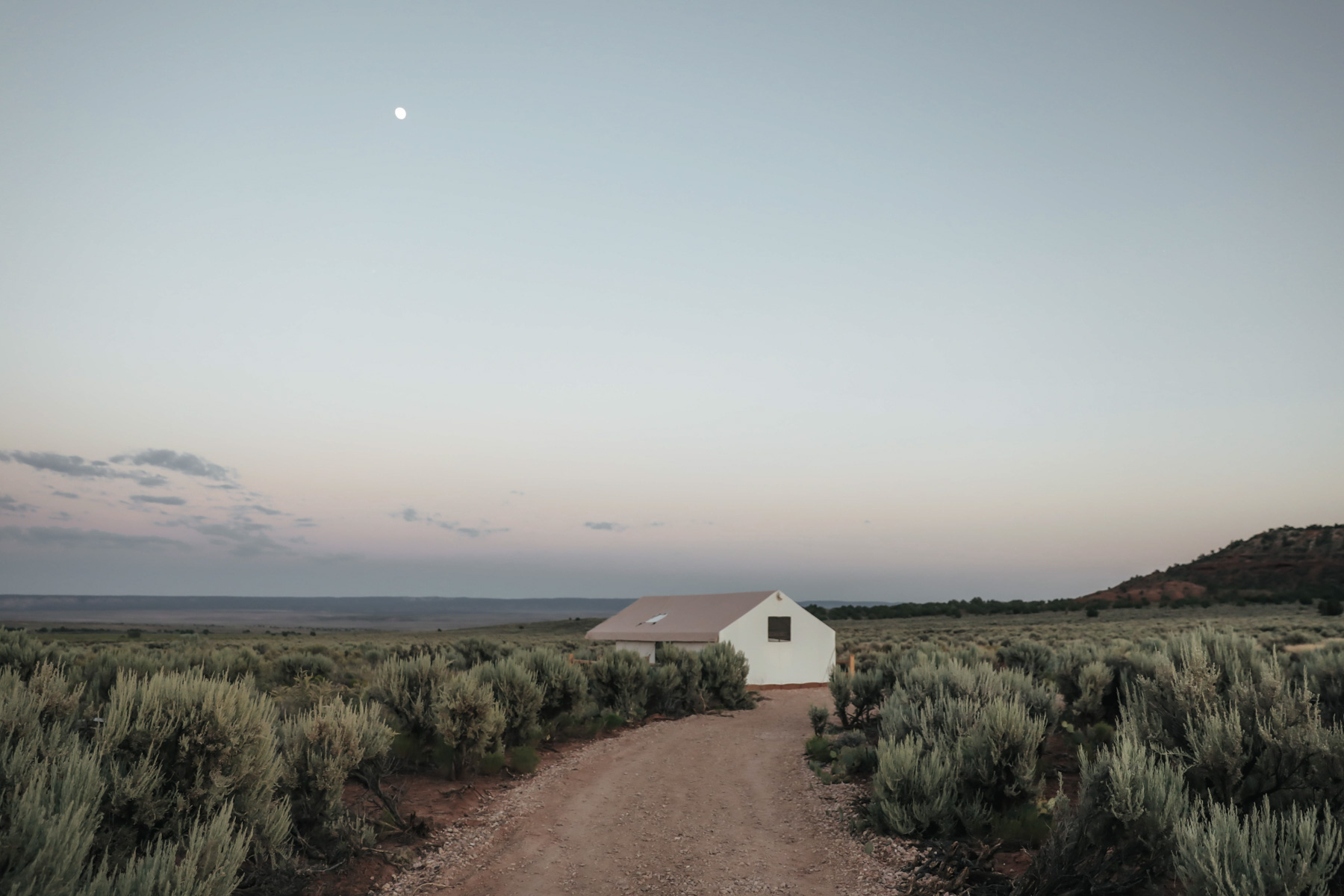 To get a true feel for our trip,  take a look at the video recap below
and come check out my Youtube channel for more goodies!
While the places we saw were absolutely incredible, the best part about a road trip is the conversations, connecting with the people on your trip, and, of course, car karaoke. One thing we tried to do each day was set personal intentions. What did we want to get out of that day and out of the whole trip in general? For me, I wanted to reconnect with nature and allow its impact to put things back into perspective. While that certainly happened, I also found something else I was looking for: a reminder to be truly me. We talked a lot about the frustrations of blogging & Instagram and of finding our true passion in this industry. What I came to realize is how important it is to listen to those truths within me and to follow them, ignoring any fears or self-doubts that may get in the way. I'll be talking more about this in an upcoming post, but wanted to share what I truly got out of this trip :).
Thank you Urban Outfitters for sponsoring this post!

Shop The Post