Entertaining
7 Must-Haves for the Perfect Night In
posted on January 22, 2015 | by Amanda Holstein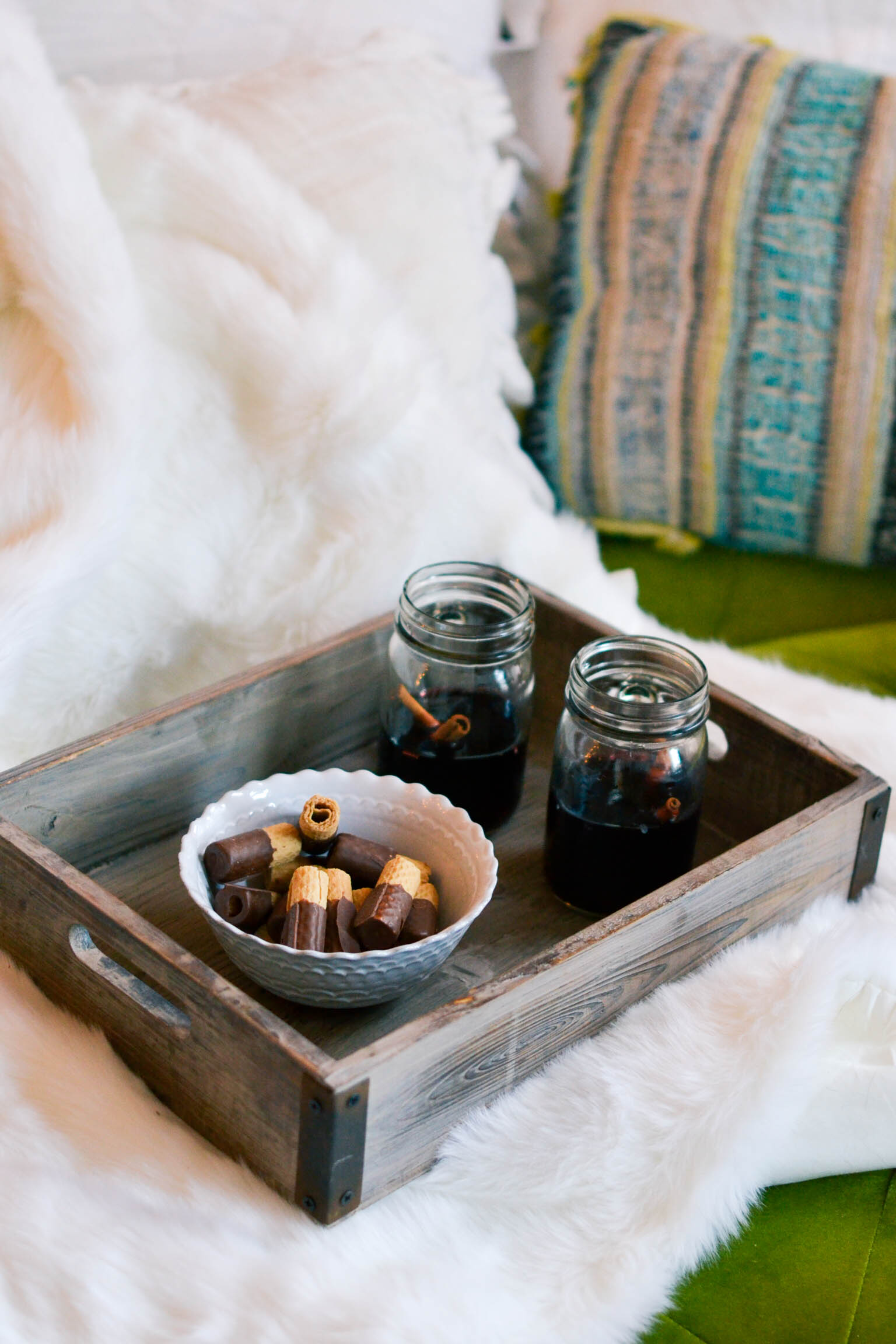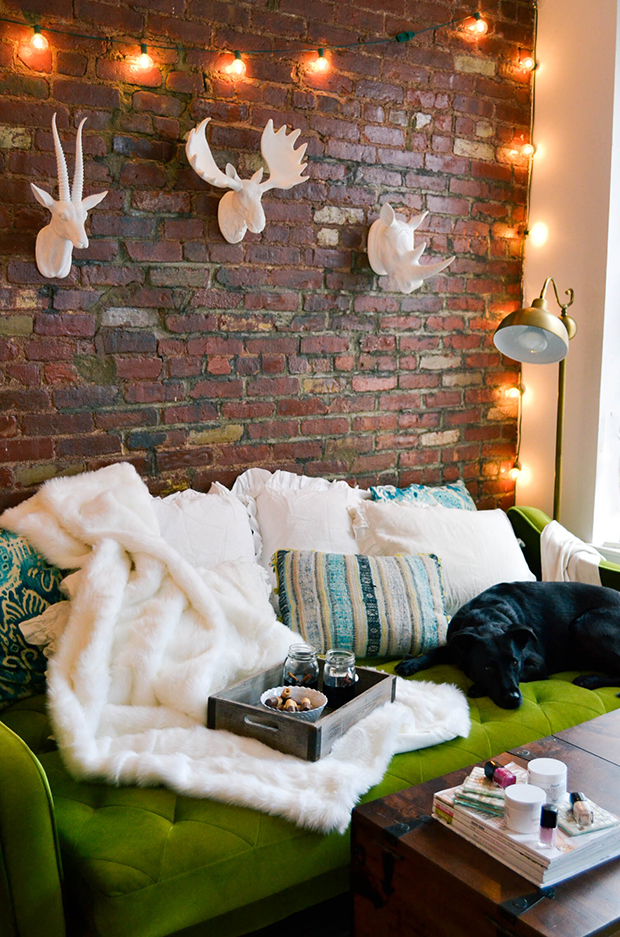 So this is winter, huh? Freezing cold winds and lazy nights in. Well, seeing as I love a cozy night on the couch with a good movie and a glass of wine, I think I can handle that for a while. So, if you're inside escaping from the snow too, then I thought I'd help you create the perfect night in with just a few simple steps. Take a look at these must-haves below and turn your living room into the coziest little nook, layered with blankets and yummy treats. And make sure to check out the giveaway at the bottom of the post for a chance to win some delicious wine!
1. Cozy Attire
Before you start doing anything, slip on your comfiest clothes and coziest socks. This is why I own long johns, my friends. To wear by myself at home with an oversized sweater (with no bra in sight, of course).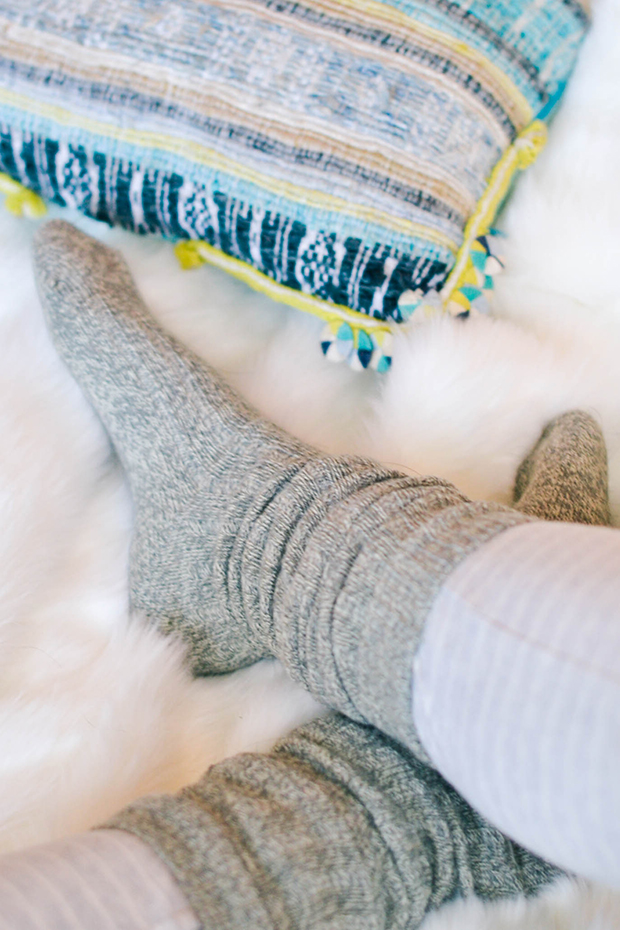 2. Lots of pillows & blankets
The key to any cozy experience? TONS of pillows and blankets. Seriously, there can never be too many. Grab all the pillows from your bed and pile them onto the couch with your softest blankets. If your couch folds down like mine (90% of the reason I bought it), then sit back with your feet up and get comfortable! (P.S. That couch is on sale right now, so take advantage!)
3. Soft Lighting & Candles
Even if you're by yourself or with a girlfriend – you need to put your apartment in relaxation mode with candles and dim lighting. This Anthropologie candle is a recent favorite.
4. Mulled Wine
I am so glad to have recently discovered this winter staple. Mulled wine is so easy to make that even I can do it. Simply pour a bottle of your favorite red wine into a pot on the stove. I'm using Seven Daughters Pinot Noir – I love this smooth wine in the winter. Add in slices of orange, a handful of cinnamon sticks, and as much honey as you'd like (I added more for my sweet tooth). Let it simmer while you set up the rest of your cozy nook and taste it until its to your liking.
5. Perfect Movie Line-Up
Picking out the perfect movie for your mood is tough, so it's good to have some go-to favorites on-hand for a night like this. I love a good '80s movie like Breakfast Club, 16 Candles, or Ferris Bueller's Day Off. Or go for a chick flick night full of The Sweetest Thing and Bridesmaids. If you're feeling homesick, there's nothing like some Disney movies to pick you up. You can't go wrong with Matilda or Hook.
6. Yummy snacks
Of course, you'll want to munch on some yummy snacks while you watch your movie. Go for a mix of sweet and salty, like chocolate covered cookies and Cheez-Its. Yum :).
7. Girly Things
No lazy night is complete without nail polish and a luxurious face-mask. Fresh makes some of the best face-masks around. They smell amazing and they leave your skin super soft and refreshed. I stock up on their Black Tea Instant Perfecting Mask and their well-known Rose Face Mask. Plus I'm a sucker for good packaging :).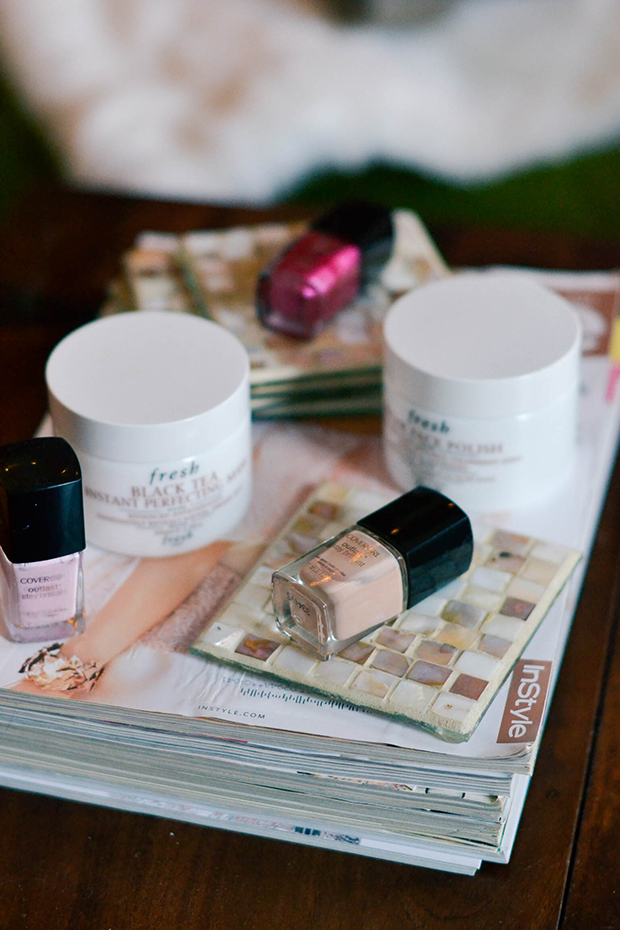 Enter the Giveaway
Seven Daughters' Wine is giving you the chance to win
a $50 giftcard to Uncorked.com! Simply…
1. Follow Seven Daughters on Facebook
2. Follow me on Instagram
Good luck!
// Thank you to Seven Daughters Wine for sponsoring this post.
All opinions are my own – I seriously love their wine!