Decor & Styling
8 Holiday Decorations Under $25
posted on December 3, 2012 | by Amanda Holstein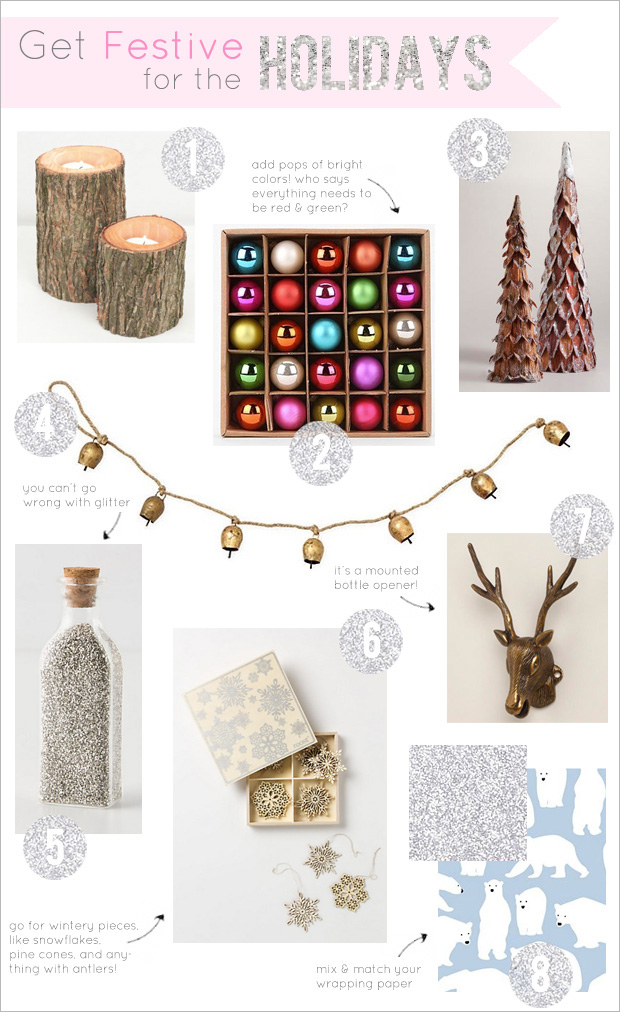 I'm not really one to get SUPER into the Holidays. I know, I know, what's wrong with me? But growing up in a Jewish family, we're kind of bitter towards the Holidays. Imagine watching all of your friends get to decorate their homes, sing songs, and countdown to the most important day of the year while you were left watching a crappy movie and eating takeout Chinese food. You'd be bitter too. I even begged my parents for a Hanukkah Bush (no, that is not a real thing) and even had a mini Christmas Tree in my room adorned with Jewish stars. It wasn't a religious thing, it was a love of decorating thing. So now that I have my own apartment, and live with a boyfriend who celebrates Christmas, I'm all about the Holiday decorations.
Here's how to add some festive touches to your home in a chic (and non-tacky) sort of way.
More Tips:
1. Stay away from classic Christmas colors and go for more wintery hues like whites, silvers and golds. Even throw in pops of color like bright pinks or greens to add interest to your Holiday decorations.
2. Add rustic touches like tree trunk candles and pine cones for a mountain-lodge vibe.
3. Don't skimp on the glitter. You can never have too much glitter around the Holidays!
What types of Holiday decorations do you like?