Blogging
Career Advice
Blogging 101: Choosing a Platform
posted on May 12, 2015 | by Amanda Holstein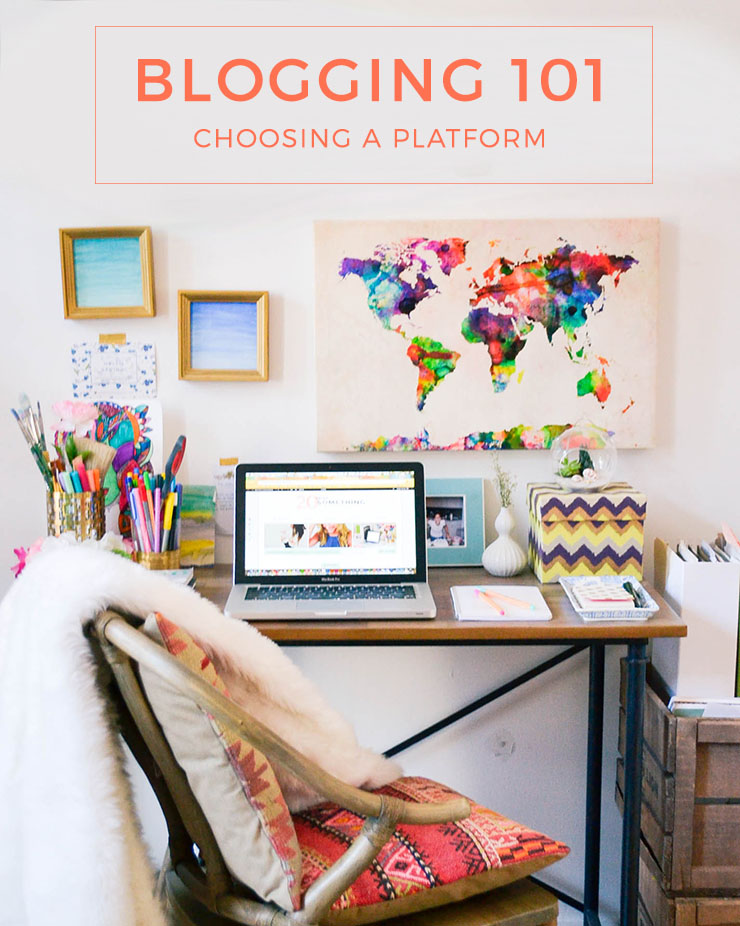 The first step to starting any blog is to decide where to create your site. With so many different blog platforms, and little to no experience in them, selecting one can be seriously difficult. So let's break down the top four platforms I recommend using to get your blog up and running.
1. WordPress.org
As you've probably noticed, there is a WordPress.org and a WordPress.com. Confusing, I know. First let's talk about Wordpress.org. Personally, WordPress.org is my favorite platform for hosting a blog. If you plan to advertise, build a large audience, and potentially bring in income from your site, I highly recommend using WordPress.org. Here's why:
The Pros
Most customizable
Most powerful option (if your site has many categories, pages, functionalities, etc.)
Thousands of plugins available to add just about any functionality you want
Thousands of themes to choose from for the layout/design
The Cons
Not super intuitive (at least for me it wasn't!)
Need to self-host through another service (i.e. Godaddy or Flywheel)
Will spend money, at least on hosting your site, and possibly on your theme or to get help coding
Not much direct support, all through user forums
2. WordPress.com
WordPress.com is what most people call the free version of WordPress, meaning they will host the site for you for free. You can also get a free domain name, but it will have wordpress.com within the URL. You can get a custom domain, but you have to pay like you would anywhere else. The biggest issue I have with WordPress.com is the lack of control you have, specifically over the ads. To be perfectly honest, if you're looking for a simple & free option like WordPress.com, I would look elsewhere. But here's what you need to know:
The Pros:
Easy to get started
Free & high quality hosting (don't need to use another site like GoDaddy, etc.)
Free wordpress.com domain (unless you purchase your own domain)
The Cons:
The free version includes their own banner ads, which you cannot control
You have to pay to have no ads
You cannot use your own ad server (like Google Adsense or from a blog network)
Limited to WordPress.com themes (you can't upload your own)
No custom plugins, meaning limited customization
Limited storage (which you have to pay for)
3. Blogger (i.e. Blogspot)
When I created my very first blog, without knowing exactly what I was going to do with it, I used Blogger. It's super simple and great for more personal blogs or if you're just experimenting with the whole blogging world for the first time.
The Pros:
Easy to use
Quick to get started
Free hosting
Free blogspot.com domain (unless you purchase your own domain)
The Cons:
Not meant for very powerful sites
Not very customizable, limited design options
Limited capabilities
4. Squarespace
While I've never personally used Squarespace, I know many bloggers who do and who are very happy with it. I've heard great things about it's modern design, superb user experience, and fantastic support. It's a more expensive option, but it does have a lot to offer.
The Pros:
Easy drag & drop interface
Really beautiful, simple, modern themes to choose from
Provides great SEO tools
Simple e-commerce capabilities
Free domain included (don't need to self-host)
Great support
The Cons:
More expensive yearly
Limited number of themes to choose from
Cannot backup content (like you can in WordPress), so if you delete a post, it's gone forever
A lot of information, right? That's okay. Take a breath. First, I suggest sitting down and figuring out what your goal is for your blog. If you know you want to grow your blog into a business, I recommend using WordPress.org. If your blog is more of a hobby, you may want to try out Blogger. It sounds like Squarespace is a good option if you want to experiment creatively and are considering turning your blog into a business later down the road. In the end, I suggest trying one of these blog platforms out for a month or two and then deciding if it's right for you. Remember: nothing's permanent and you can always switch later on.
Let me know if you have any questions on these four blog platforms in your comments below!