Editor's Picks
Where To Get Your Booties This Fall
posted on September 30, 2013 | by Amanda Holstein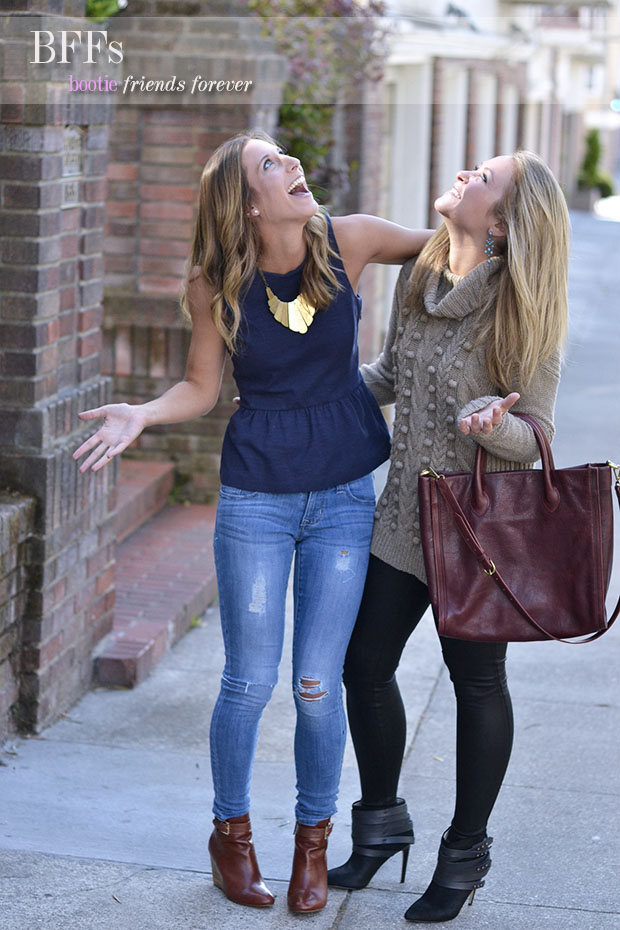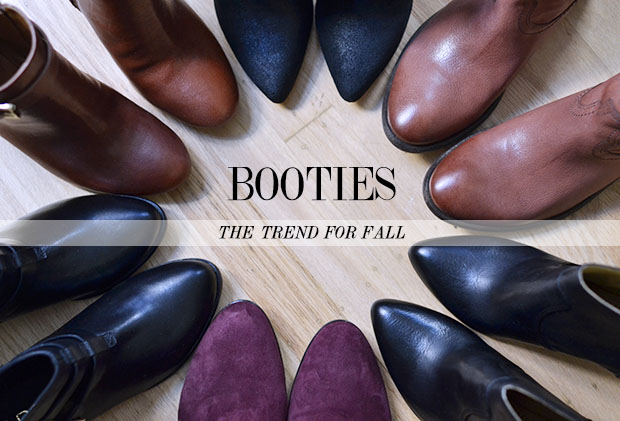 If you know me at all, then you know I have an obsession with booties. They are my perfect shoe. They add just the right touch of cool to any outfit and tend to be super comfortable. What's not to like about that? With this trend blowing up comes an endless choice of booties for the upcoming fall season. From flat booties, to wedge booties, to moto booties, the list never ends.
One of my favorite places to not only buy booties, but also get inspiration on how to wear them, is the one and only Piperlime. I teamed up with my BFF (no, not Best Friends Forever, but Bootie Friends Forever) and styled a ton of looks with some of my favorite ankle boots, all available at Piperlime, in celebration of Piperlime's Week of Chic: Ankle Booties! They're hosting an awesome Instagram contest where you could win a pair of booties for you and a friend simply by posting a photo of you and your BFF wearing ankle boots with the hashtag #BFFweek. If I were you, I'd definitely enter.
So if you weren't sure how to style the ankle boots before, these 6 outfits should certainly help. Enjoy!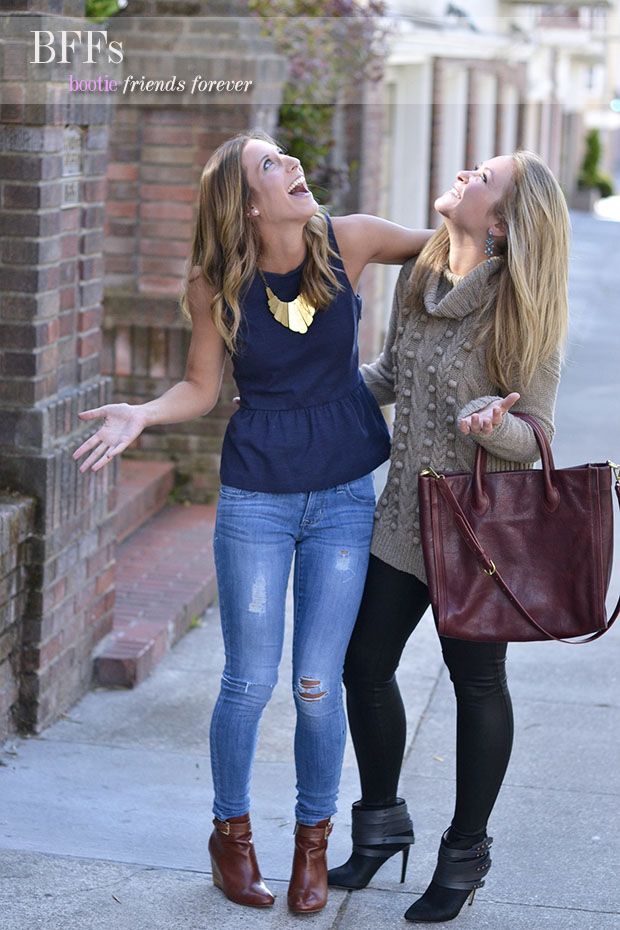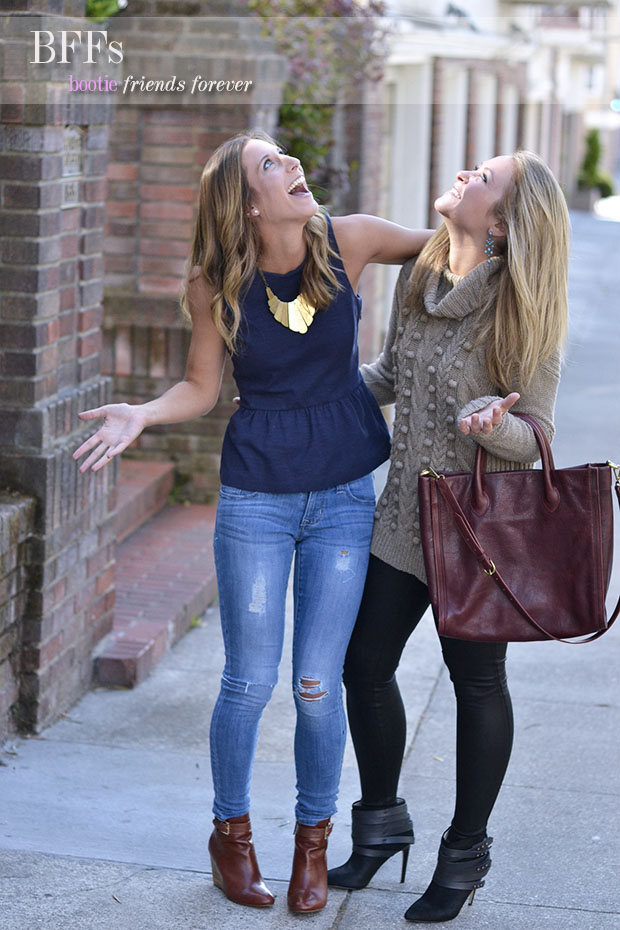 Bootie Trend #1: Casual
The casual ankle boot is perfect for a simple jeans-and-a-tee look and is also great for dressing down an outfit. Jane paired her Frye boots with this floral number to make it a bit more casual. I love the shade of leather and cowboy feel of these booties – they are completely Jane's style. Doesn't she look adorable?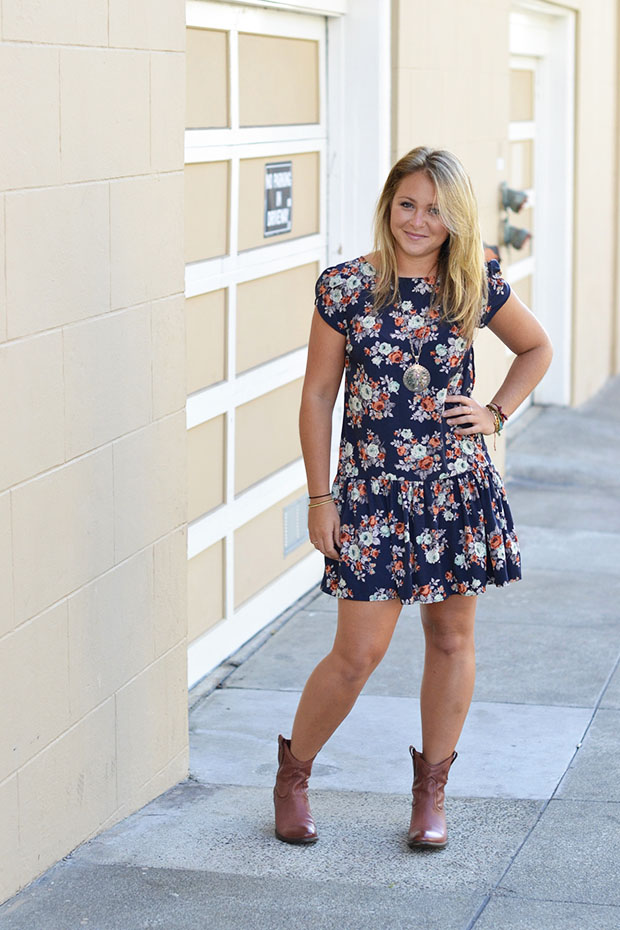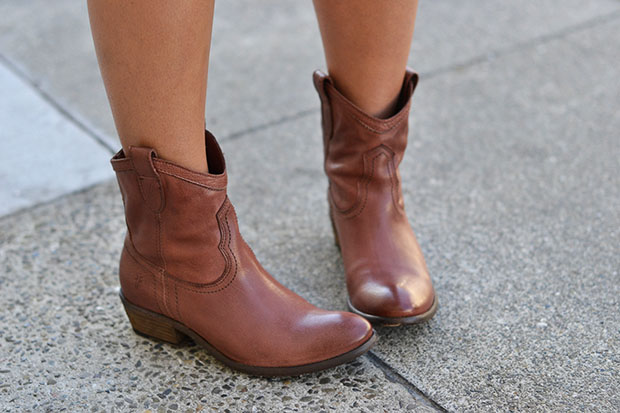 Urban Outfitters Dress (similar here and here | Vintage Necklace | Frye Carson Short Booties via Piperlime
As for my look, I went with some of my favorite fall trends: a leather skirt and a textured sweater. I added these Sam Edelman booties for a pop of color and to dress down the outfit a bit as well. Colored booties are a great addition to any neutral outfit.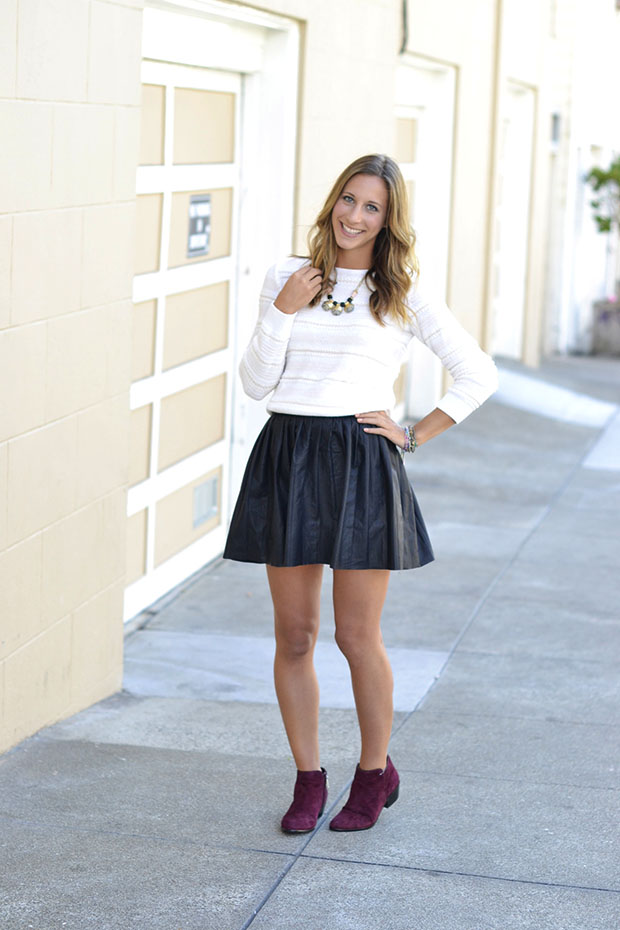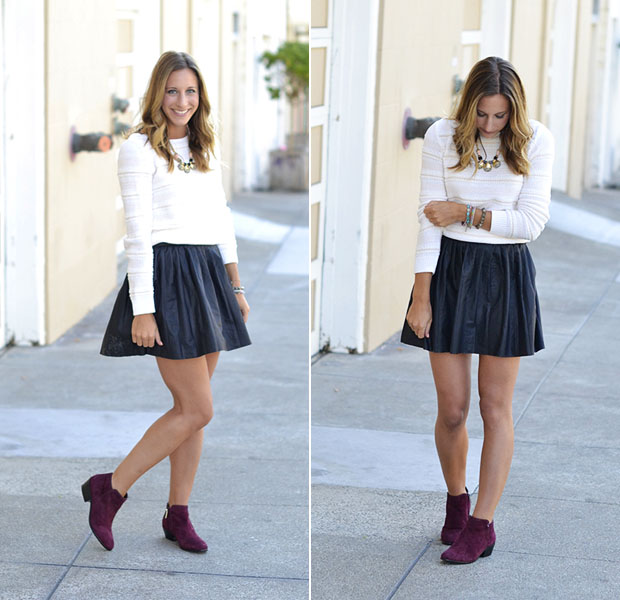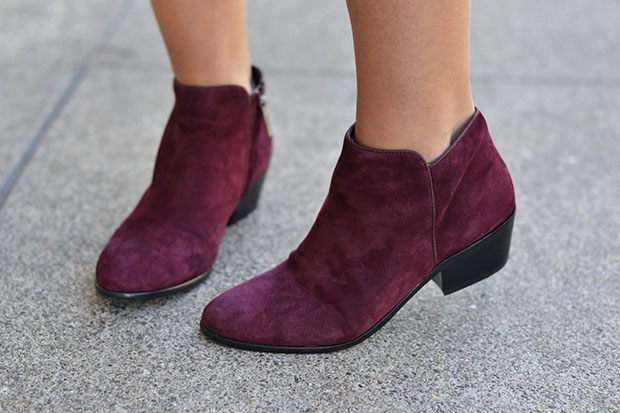 Madewell Sweater – similar, Urban Outfitters Skirt – similar,
Madewell Necklace – similar here and here, Sam Edelman Bootie via Piperlime
Bootie Trend #2: Wedge
The wedge bootie is super versatile as it can dressed up or down. Jane wore hers with a more dressy look, black tights, a flowy skirt and a great structured jacket (recognize it?). I love the feminine vibe of these Frye booties.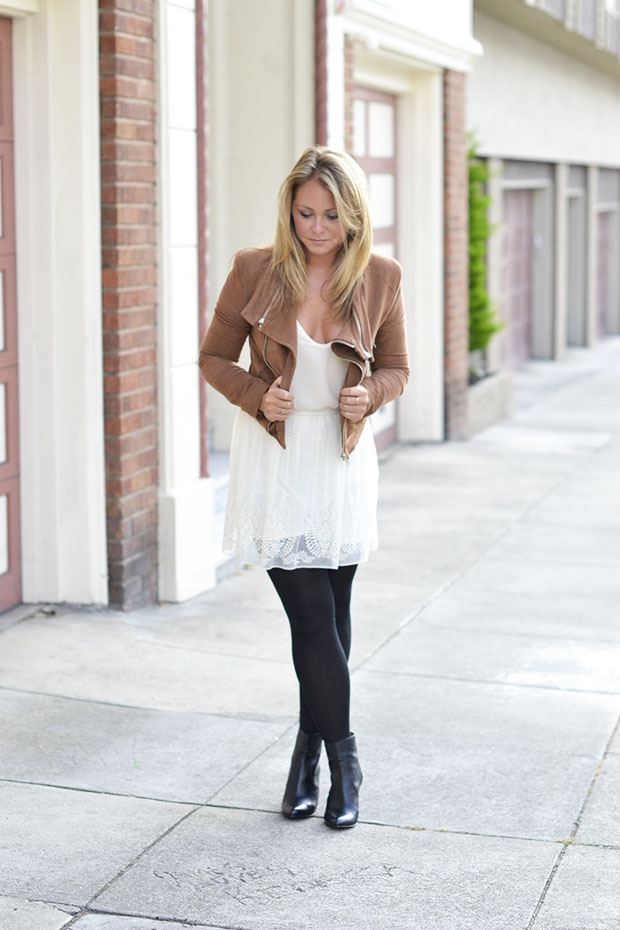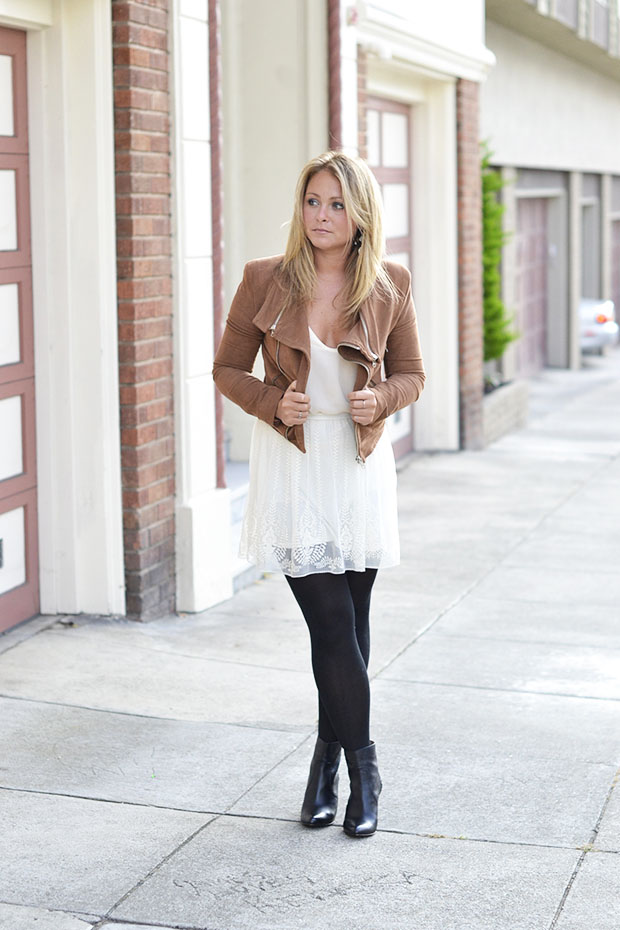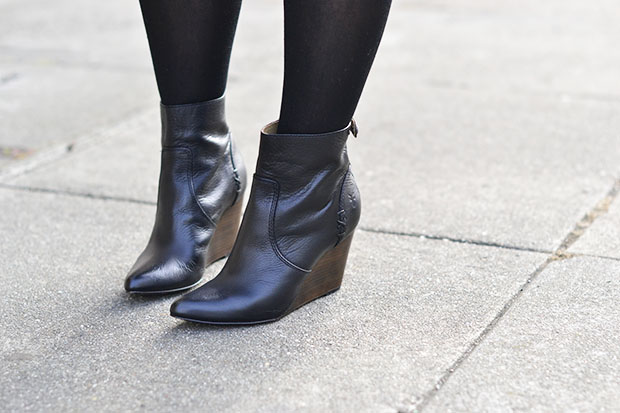 Urban Outfitters Skirt – similar, Zara Tank, Style by Marina Jacket – similar, Frye Regina Wedge via Piperlime
I chose to dress my wedge booties down a bit with distressed denim, a cotton peplum top, and a bold statement necklace. The buckle on these Nine West booties really makes them pop and I love how versatile they are.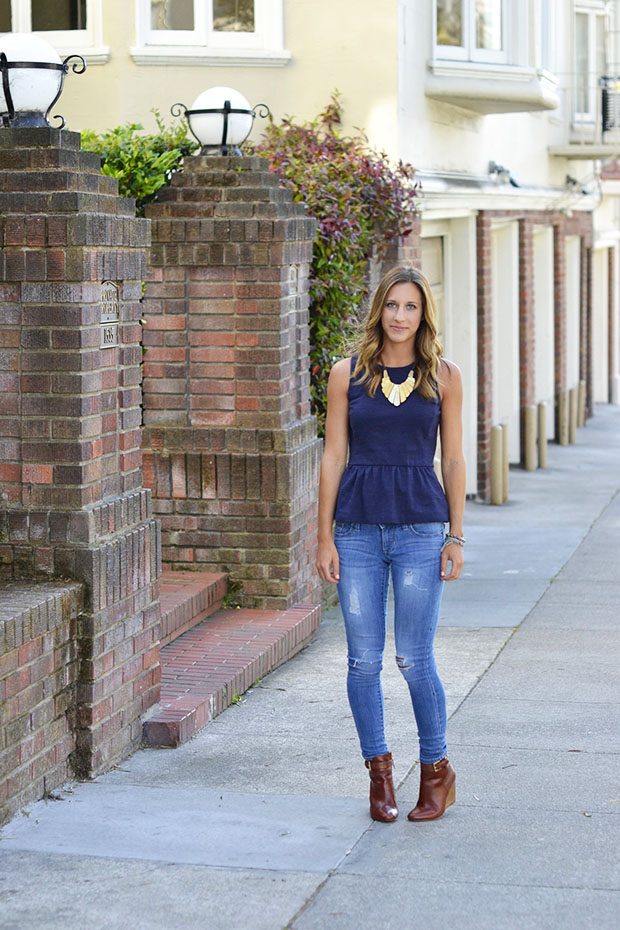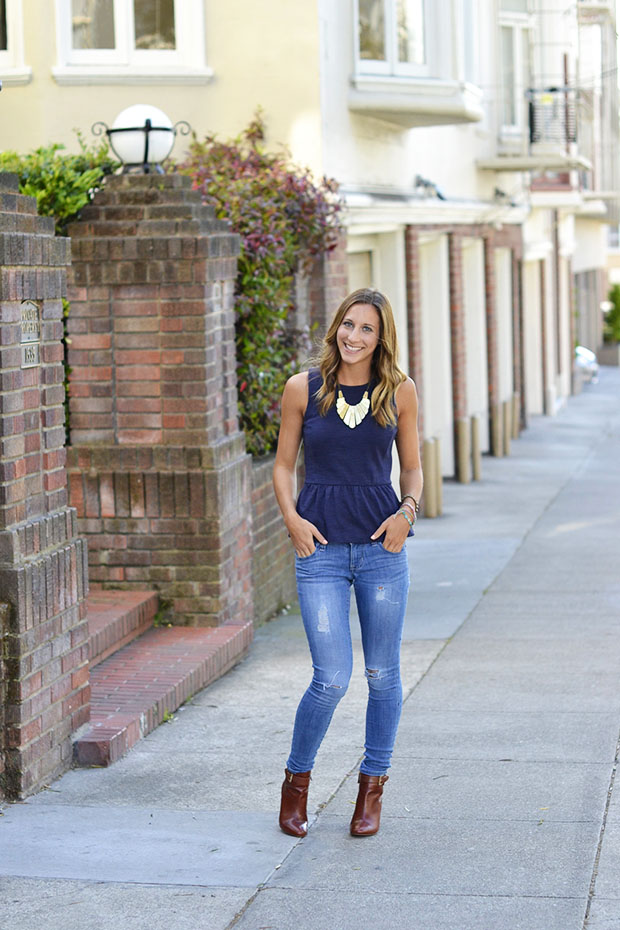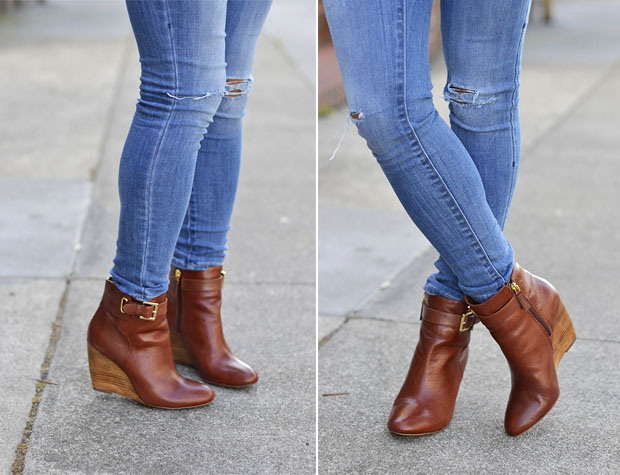 Madewell Top – similar, Old Navy Jeans – DIY here, Nastygal Necklace – similar, Nine West Wedge via Piperlime
Bootie Trend #3: Moto
While neither Jane nor I are apt for rocking the moto trend, these booties make the trend much easier to master. Hers go perfectly with leather leggings and a chunky turtleneck. Although a bit edgier than her usual look, the cozy sweater dresses it down and makes it totally doable for Fall.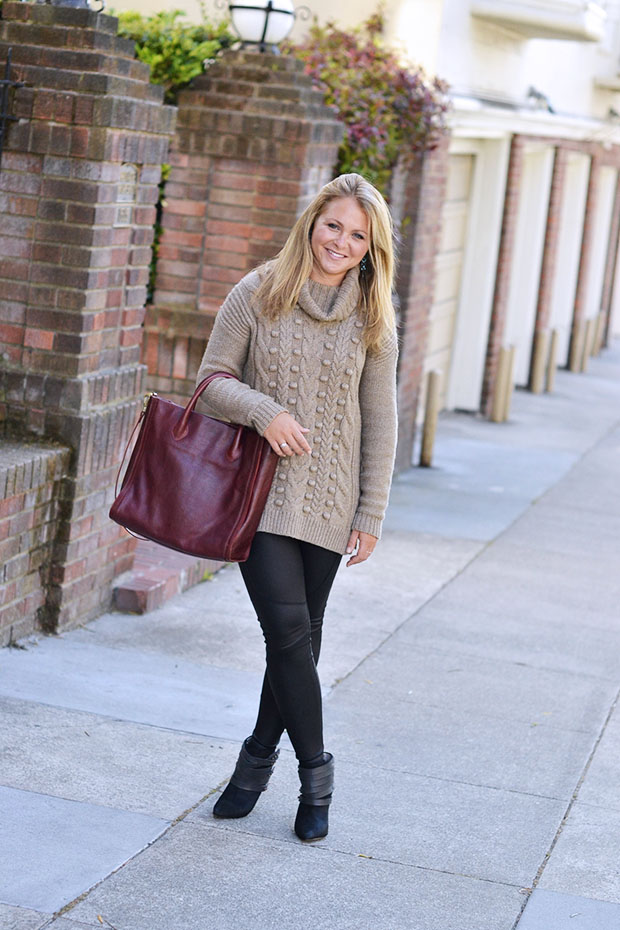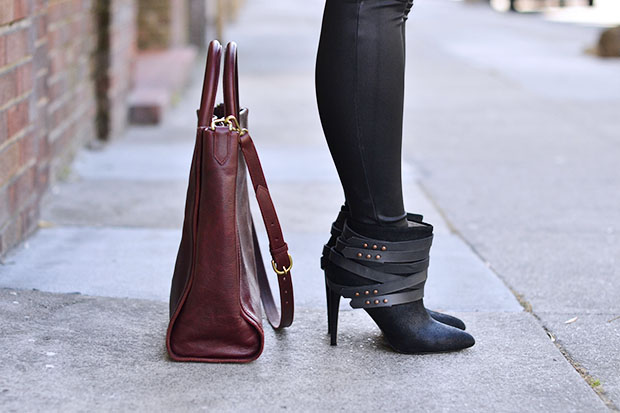 Madewell Sweater – similar here and here, BB Dakota Leggings via Piperlime,
Madewell Bag, Joe's Landry Bootie via Piperlime
If I'd gone to NYFW this year, this outfit would have definitely been on my list. Tweed and leather are fun fall textures and the pop of coral lips is unexpected. The black moto booties add the perfect touch.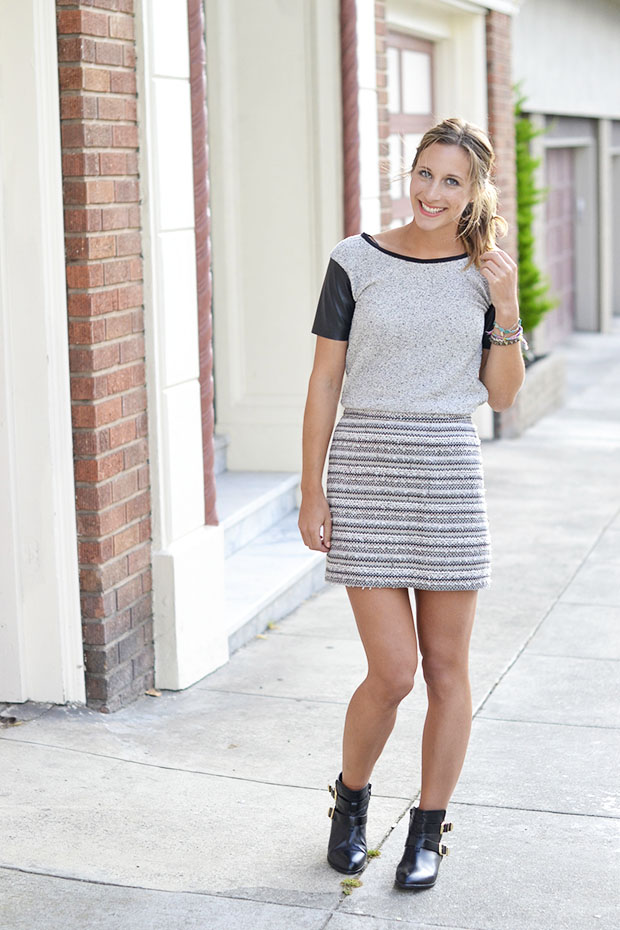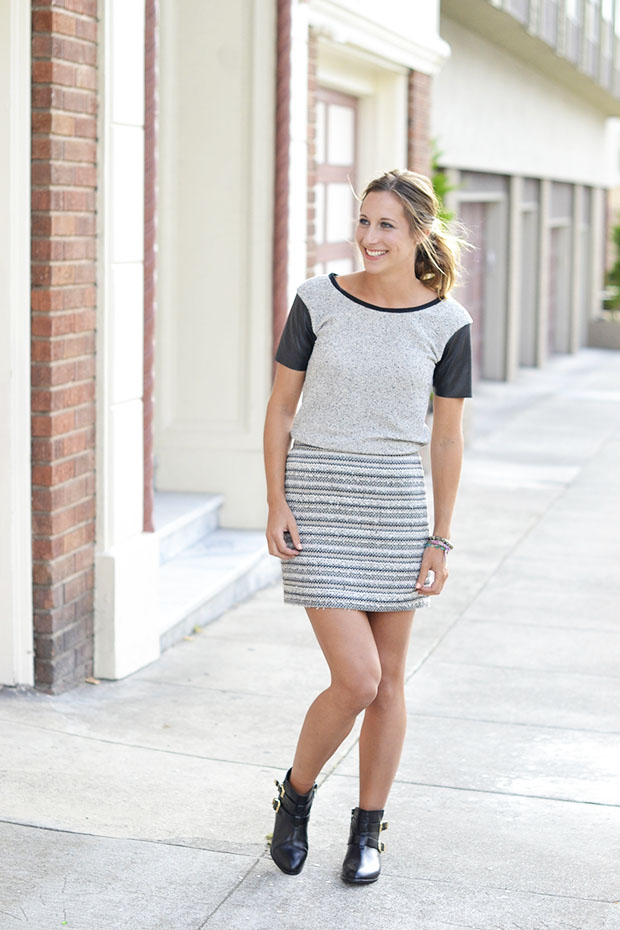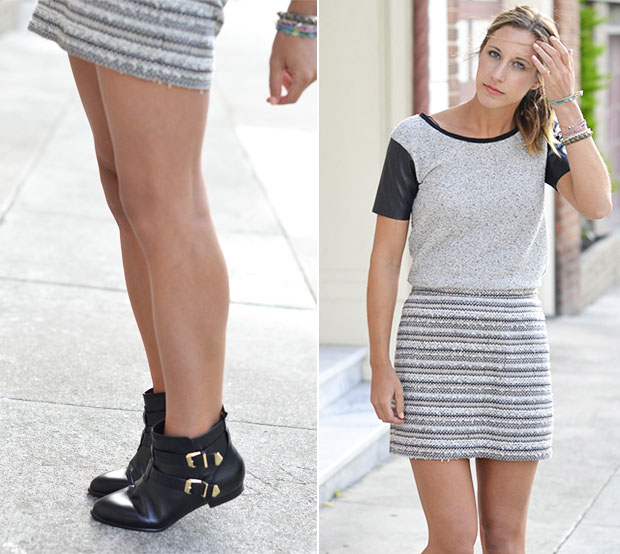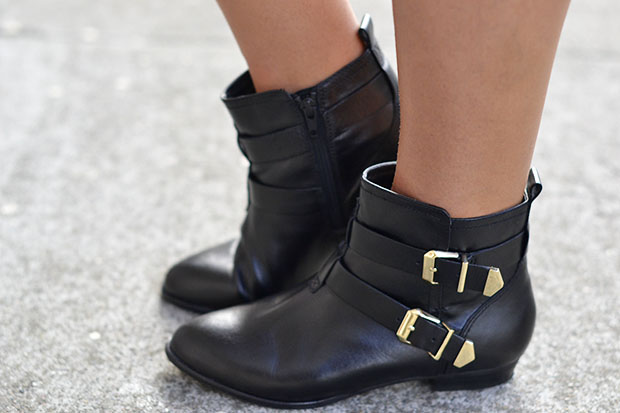 Zara Top – similar here and here, Madewell Skirt (on sale!), ALDO Bootie via Piperlime
Which is your favorite bootie trend?
//
This post is brought to you by Piperlime. Visit www.piperlime.com for the latest fall fashion trends.