DIY
A Simple Ikea Hack Desk
posted on November 6, 2013 | by Amanda Holstein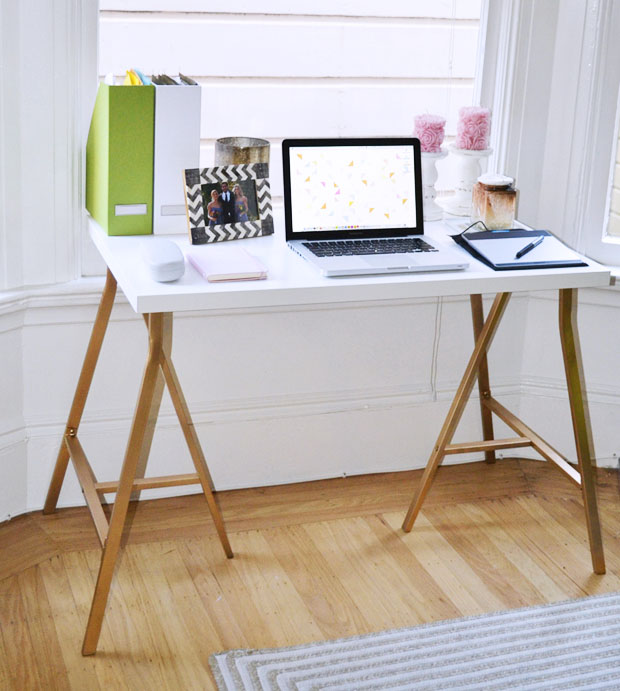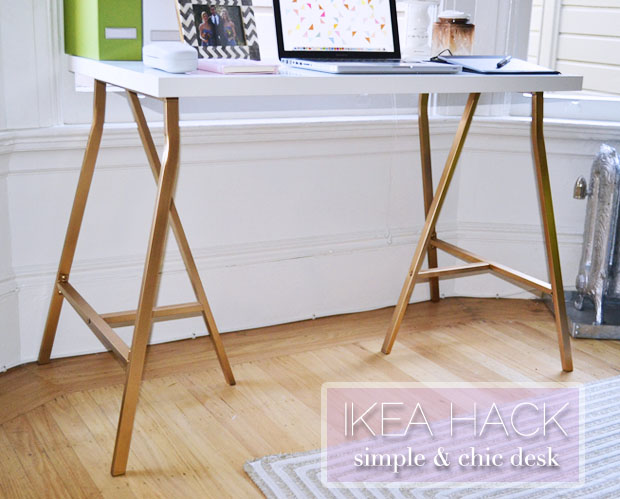 Finding a cheap yet stylish desk for under $100 is not an easy feat, my friends. After scrounging through Craigslist, every cute and overpriced furniture store in my neighborhood, and the usual online suspects (Pottery Barn, West Elm, etc.), I finally gave in and browsed through Ikea's website. Not in the mood to build something from scratch or have a desk that screamed Ikea, I stumbled upon this fantastic post that lead me to create today's super easy DIY Ikea hack desk.
People, this desk cost me $45 (including the spray paint). How crazy is that?? All you need is the following:
Supplies:
2 Lerberg Trestle Legs ($10 each, IKEA)
You can get them in gray or white. I wanted white because I thought they'd be easier to paint over, but they only had gray and they worked just as well!
1 Linnmon Table Top ($19.99, IKEA)
I opted for this smaller table top to fit in my tiny apartment. It's still a really great size desk!
Krylon Premium Metallic Spray Paint in Gold ($5, Amazon or your local hardware store)
How To:
Put the trestle legs together first before spray painting. Then set them up in a well ventilated area. I used the garbage alley of my apartment building. Make sure to put down newspaper or something first. Follow the directions on the can. I recommend 2-3 coats. Let the paint dry for a few hours between each coat.
Once the legs are ready, I had to attach them to my table in a more creative way since I bought a table top that didn't quite match up with these legs. If you buy the larger size Linnmon Table Top, it will come with tools to attach it to the trestle legs, but I opted for a smaller (and cheaper) table top. I used thick double-sided tape (meant to stick to metal, wood, etc.) to keep the legs more securely attached to the table top and it worked perfectly. You can find some on Amazon or your local hardware store.
I'm still working on getting my desk accessories (and a chair…), but I love how it turned out!