Fun Things To Do
9 Cozy At-Home Activities to Warm Your Heart This Winter
posted on December 14, 2020 | by Alyssa Abel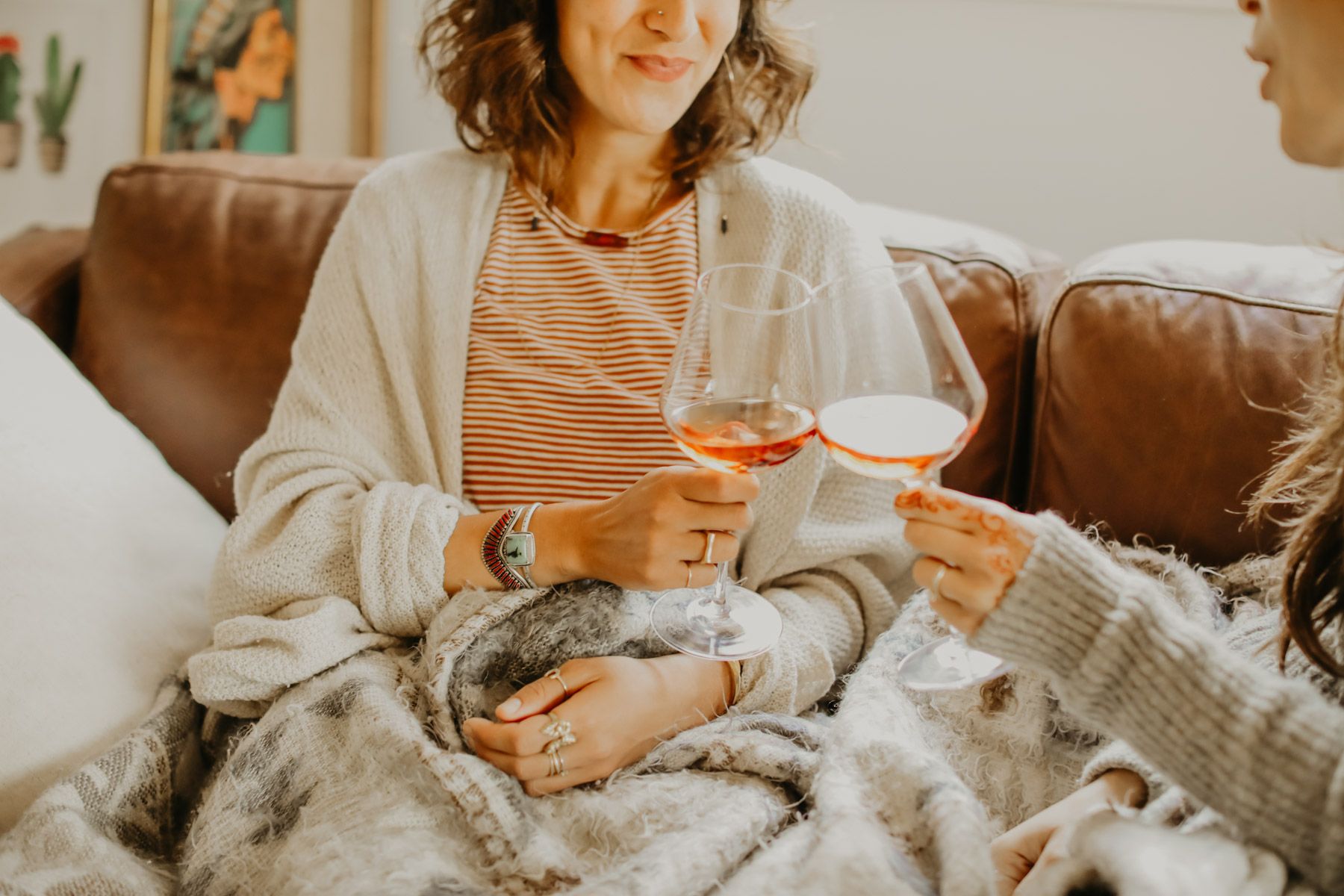 Winter is here, and it's time for hygge. What's that, you ask? It's a Danish concept that refers to a quality of contentment and coziness — and considering how highly Danes rank in terms of overall happiness, they may be onto something. They rule when it comes to cheerful holiday home activities. 
How can you cultivate this sense of snuggly comfort? Here are eight cozy at-home activities to warm your heart this winter. 
1. Knit a Hat
Knitting is the perfect winter activity to do at home — and, when you finish, you have something to help keep you toasty. Plus, during the holidays, you might need a gift, but lack the cash. 
Why not teach yourself how to knit a hat with the internet's help? If you have a relative with a passion for purl-two, connect via Zoom and let them show you the ropes. 
2. Elevate Your Hot Cocoa Game
Making hot cocoa is among the coziest cheerful holiday home activities you can do. However, who says you have to rip open an additive-containing packet? 
Learn how to make authentic cocoa from scratch — experiment with various recipes, adding unique ideas until you perfect your blend. You decide if you want to add mini-marshmallows, whipped cream or both. 
3. Test a New Cookie Recipe
Now that you have your mug in hand, you need a snack to go with your cozy winter libation. Since you have more time indoors and running the oven keeps you toasty, cookies make the ideal treat. 
Staying in doesn't mean you can't slake your wanderlust through imagination. Get global with your baking this year — try various cookie recipes from around the world and enjoy a taste of Thai with your tea. 
4. Make Time for Some Meditation
Who said you need a yoga studio to feel the zen? Your home is the perfect place to relax and rejuvenate with some daily meditation — and all you need to start is yourself and a quiet place to sit. Start your mornings with a motivating five-minute meditation, grab some reflective time on your lunch break while working from home, or wind down before bed with some deep breathing, stretching and a gratefulness meditation. Not only does mindfulness make you happier, but it can help keep you motivated for whatever goals you're focusing on. 
5. Curl up With a Good Book
Ah, the joy of reading. Is there anything better than an entire afternoon to indulge in a juicy novel? 
What if you aren't sure what to read? You can connect with others via an online book club and try their recommendations on for size. Seek those tailored to the genres you enjoy most. 
6. Master a New Yoga Pose
Exercise remains critical for your health, even though you might feel less energetic than you do in the summertime. You can practice yoga anytime and nearly anywhere for a mind-body workout and relaxation. 
If you are an advanced student, make this the year you tackle a tricky balancing pose. If you are new, use the slower times to ease your body into various asanas and explore how your physiology works. 
Please never force a stretch — everyone's ligaments and tendons have slight length variations, and your bone formation can limit your degree of hip rotation. Part of the practice's beauty is listening to your body and getting in tune with it — use this time to hop on YouTube and seek modifications that work for you.
7. Indulge in a Home Spa Night
Spa pampering was a luxurious privilege once upon a time, but COVID-19's lingering threat renders it too dangerous for some — and it's always been beyond others' price points. Why not recreate the experience at home on the cheap?
Use clean cat litter pans from your local dollar store to soak your feet pre-pedicure. Learn how to give a massage — take a lesson with your partner so you can swap places. Create quenching body creams with a little coconut oil and your favorite essential fragrances. 
8. Write a Letter to an Old Friend
The old-fashioned art of letter-writing has somewhat gone the way of the dodo. You can help revive it by getting out your stationery and turning it into the ideal at-home winter activity. 
What if you don't know to whom to write? The COVID-19 quarantines have many people seeking pen pals — you can connect with a new friend. If you have a compassionate spirit, you can also write to inmates, many of whom feel heartbroken each time mail call arrives and don't hear their names. 
9. Volunteer in a Soup Kitchen
While this suggestion might not technically fall into the at-home activities category, it will make you much more thankful for what you have. Volunteering in a soup kitchen offers much-needed perspective if the events of 2020 have you feeling more depressed than Eeyore from "Winnie the Pooh." 
Try to avoid signing up for a volunteer slot on holidays like Christmas — many organizations get glutted with help on such days. Instead, choose a weekday or Saturday afternoon. Groups still need people to cook, ladle and sit with patrons, but they see fewer folks raise their hands during these times. 
These 8 Cozy At-Home Activities Will Warm Your Heart This Winter
This winter, celebrate the spirit of hygge with these eight cozy at-home activities that will warm your heart. You won't mind a little more time in confinement when you celebrate all things snuggly.